The 5 Most Unintentionally Gay Horror Movies
At some point, possibly in the 80s, Hollywood decided that a good horror movie needed to be built on a strong foundation of homoerotic subtext. We're not saying it's a bad thing, this is 2009, after all.
What we are saying is that their strenuous efforts to both cram in as much homoeroticism as possible, while avoiding actual gay characters or storylines, is the stuff unintentional comedy is made of. For example...
#5. The Lost Boys (1987)
Summary:
A handsome young man is targeted by vampires. Everyone is dressed like members of WHAM!
After moving to the flamboyant new town of Santa Carla, Michael falls in with a crowd of bad dudes after being attracted by the gang's sole female member, Star. Strangely, none of the fellas in the gang seems to be showing any interest in her, forcing Michael to conclude that they're all in serious relationships with other female vampires.
Michael follows Star back to the vampires' lair, where the leader of the pack, David, tricks Michael into swallowing some of his bodily fluids. Or maybe it's not a trick, and Michael is just so impressed at having been invited over to Jack Bauer's house that he does it voluntarily.
Pretty soon, Star is nowhere to be seen, and Michael demonstrates his loyalty to vampire-Jack Bauer by jumping off a bridge. He then lets his family know about his new lifestyle by coming home sporting the international sign of vampire-gang membership: a single ear piercing. Even his younger brother, Sam, who prides himself on his flamboyant "young Elton John" wardrobe, seems shocked by this.
Later, there's a rushed sex scene with Star which is obviously added to draw attention away from the flaming sexual tension between Michael and pale-Jack Bauer. However, it's not enough to distract us from the moment that propelled this movie onto the list. A moment that makes the gleaming man with his saxophone and studded codpiece seem as hetero as Brett Favre.
The moment to which we refer comes when Sam opens his not-at-all-metaphorical closet, resulting in a shot which has led to years of speculation by experts.
That's Rob Lowe, folks.

Best Quote:

"My blood is in your veins!"

Wait, Are You Sure This is "Unintentional"?

Look, it was a different time. And that different time was the 80s.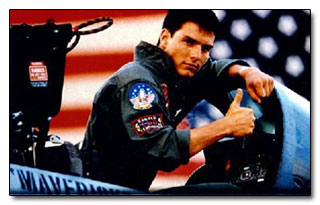 It was an era of men with waxed chests, in towels. Of moussed hair and pastel shirts. The whole world was flamboyant and nobody felt threatened by it. The Lost Boys seems to have been filmed purely as a time capsule for the era that gave us Top Gun. Show the film to an amnesiac or somebody born in 1991, and they'll say "Oh, that's what you mean by 'ambient gay.'"
So what if Corey had Rob Lowe in his closet. Lowe starred in St. Elmo's Fire, director Joel Schumacher's last film before he directed The Lost Boys. The picture on Sam's closet was probably more a jokey director shout-out than anything else.
On the other hand, Schumacher is openly gay and was responsible for putting the nipples and enormous dong on the batsuit.
Okay so maybe it was a little bit intentional.
#4. The Covenant (2006)
Summary:
Caleb is the leader of a gang of "undercover" male witches who spend a lot of time showering together. He is obsessively targeted by a mysterious stranger, Chase, the new kid at their exclusive private school.
We don't want to read too much into the fact that the school's female students are featured mostly as blurry, indistinct figures in the background. Why read anything at all when we have an all-male naked locker room fight scene to watch?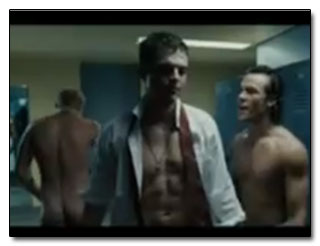 "I'm gonna cast a magic spell. A magic ass spell. On your ass."
Yes, it's the classic story of male friendship: One man defends another in a naked brawl, sparked when one of the men is called gay. Our memory is a little hazy, but we're fairly certain that's how Mel Gibson met Danny Glover in the first Lethal Weapon.
After their bond if forged through butt-naked combat, Chase and Caleb hit some bars together and engage in extended male swimming competitions while wearing tiny, tiny shorts. Their relationship reaches its climax when Caleb discovers the secret that Chase hides away from the world in the clos ... cupboard deep within his soul. We're of course talking about the fact that Chase is also an undercover witch.
Chase becomes desperate to consume Caleb's magic, when he learns that Caleb has a special magic that will only fully develop once he turns 18. Chase stalks him, threatens his friends and eventually holds him down and kisses him.

"This is how we steal magic, right?"

This brings us to the final conflict, and the point at which the film pretty much whips the audience in the face with the homoerotic symbolism: In the climactic scene, the two men hurl magic translucent white globs of power at each other as Chase begs for Caleb's consent.

Best Line:

"How about I make you my wi-atch?"

Wait, Are You Sure This is "Unintentional"?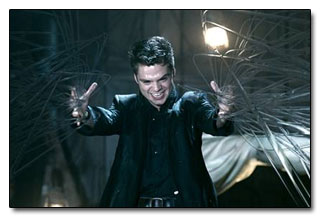 "Be careful, my magic is very sticky and if it gets in your hair, you'll never get it out."
In this case, at least, all of the homoerotic subtext lurking just beneath the surface (and sometimes prominently above it) seems to be a strange, misguided attempt to appeal to the young women who this film was plainly aimed at. The filmmakers must have spent some time in some chat rooms, and decided that homoerotic fanservice is all that is needed to sell tickets in these modern times.
To be fair, the obligatory girl-girl make-out scenes in modern slasher flicks demonstrates that producers don't have a much higher opinion of male horror fans.
#3. The Forsaken (2001)
Summary:
Young man befriends vampire, ignores attractive woman for 90 minutes.
Don't let the scantily-clad female on the cover fool you into renting this movie for your men's beach volleyball after party. Actress Izabella Miko appears in approximately 10 minutes of footage, and the rest is devoted to a lengthy bromance between Sean and half-vampire Nick. The naked women, gratuitous violence and vampire car chases thrown in throughout the film just make the homoeroticism stand out more, the same way that Al Pacino's presence in The Devil's Advocate made Keanu Reeves look even dumber.
The plot kicks off when Sean is asked to transport a car cross country, and given a specific no-hitchhiker rule by his employer. And he's able to follow it until a young blond hitcher, named Nick, catches his eye and asks, "Use some company?" Oh, we know the answer to that one.
Sean keeps Nick around even as he gets him fined by the cops, steals his food and money and randomly strips an unconscious girl naked in his hotel room. Unfortunately, this loyalty doesn't pay off because both the girl and Nick turn out to be vampires, and Sean gets his ass bitten (not literally).
Nick then explains that Sean has been infected with a blood disorder that can only be slowed with a cocktail of drugs.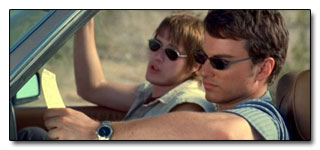 "Also you have to let me stick my finger in your mouth. To cure your blood disorder, you see."
The two young men team up to attract and kill the head vampire, a Frenchman who also seems to have a thing for Sean. The head vampire, though, is no match for the most powerful force in the universe: white hot, masculine love. The film ends as the two men stare meaningfully into each other's eyes, and ride off into the sunset together.
Best Quote:
"I need all the muscle I can get!"
Wait, Are You Sure This is "Unintentional"?
It hardly seems possible; after all, the subtext is so obvious the guy who played Sean was asked about it (before this film, he was best known for playing an openly gay man on Dawson's Creek).

This certainly doesn't look like a vampire movie.
But, he did deny it. So, hell, maybe it was just a case where the chemistry of the two male actors combined to create a flash of spontaneous homoerotic combustion. It happens. If you've ever hung around a college fraternity, you know what we're talking about.