Later, there's a rushed sex scene with Star which is obviously added to draw attention away from the flaming sexual tension between Michael and pale-Jack Bauer. However, it's not enough to distract us from the moment that propelled this movie onto the list. A moment that makes the gleaming man with his saxophone and studded codpiece seem as hetero as Brett Favre.
The moment to which we refer comes when Sam opens his not-at-all-metaphorical closet, resulting in a shot which has led to years of speculation by experts.
That's Rob Lowe, folks.
Best Quote:
"My blood is in your veins!"
Wait, Are You Sure This is "Unintentional"?
Look, it was a different time. And that different time was the 80s.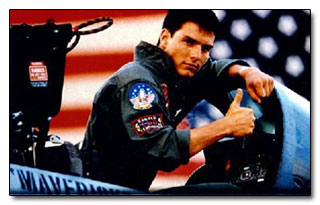 It was an era of men with waxed chests, in towels. Of moussed hair and pastel shirts. The whole world was flamboyant and nobody felt threatened by it. The Lost Boys seems to have been filmed purely as a time capsule for the era that gave us Top Gun. Show the film to an amnesiac or somebody born in 1991, and they'll say "Oh, that's what you mean by 'ambient gay.'"
So what if Corey had Rob Lowe in his closet. Lowe starred in St. Elmo's Fire, director Joel Schumacher's last film before he directed The Lost Boys. The picture on Sam's closet was probably more a jokey director shout-out than anything else.
On the other hand, Schumacher is openly gay and was responsible for putting the nipples and enormous dong on the batsuit.
Okay so maybe it was a little bit intentional.