The 9 Most Badass Bible Verses
#3. Quote from: 1 Kings 18:24,38-40
That is how they used to do religious debates back in the day.
The situation was that people of Israel had taken to Baal worship, a faith that added a lot of whores to its rituals and thus gained immediate popularity. Elijah (not the one with the bears, that was Elisha) decided that the people had to choose between Baal and God.
Rather than write a series of books or give a bunch of boring speeches, Elijah invited 450 Baal prophets to a contest, where both sides would set up an animal sacrifice. Whichever God could rain down fire on its sacrifice would be the one everybody worshiped.
It's brilliant in its simplicity, and we're surprised religious debates were ever carried out any other way after that. You can raise all the intellectual challenges you want about faith and the origins of the universe, but at the end of the day, you have to worship the god who can set you on fire. It's common sense.
We like to think Elijah stood in front of the howling column of heavenly fire, straightened his robes, turned to the crowd and said, "Thus, my opponent's argument falls." Then, he finished the debate in the way that all debates should be finished: by having the losers slaughtered.
#2. Judges 15:15-16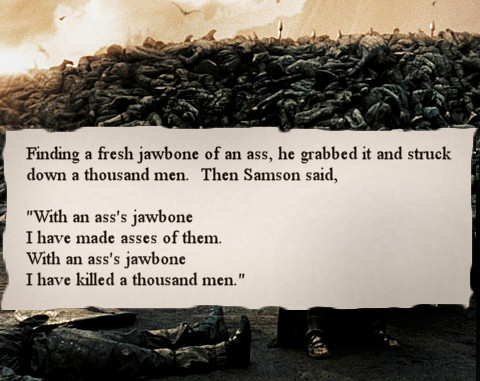 Samson could have dominated this list if we had let him. He was a sort of biblical superhero, who could basically call down the powers of the Lord to turn himself into a hurricane of ass kicking.
His whole story involves a feud with the Philistines, people who lived in part of what is now Israel and embraced the long tradition of going to war with the Jews. Or, specifically, the Philistines went to war against just Samson. And, they pretty much lost.
On this particular day, the Philistines had burned Samson's wife to death, and sent some men to capture him. Specifically, they sent 3,000 men. So, at that point, Samson either had the reputation as a world-class badass, or the Philistine army was the equivalent of those shitty battle droids from the Star Wars prequels that could only kill an enemy soldier by crushing him under a pile of their own corpses.
Either way, they didn't send enough. Samson tore apart the skull of a nearby dead donkey and grabbed one of these:
... Then killed a thousand men with it. A thousand.
What should be emphasized in this story was the bravery of the Philistine soldiers, specifically the ones in the back who kept charging even after seeing 700 or so of their comrades go down with shattered skulls. We're talking about guys who probably climbed over a pile of bodies 15-feet high to get to him.
If this story seems improbable, you can always claim mistranslation (for instance, in some versions of the story it's 20 Philistines instead of a thousand). We like to think they merely made the mistake of confusing a donkey's jawbone with that of a Tyrannosaurus Rex.
Or, perhaps "donkey's jawbone" was mistranslated from the original Hebrew word for "minigun."
Runners up for this spot on the list included Josheb-Basshebeth, who according to 2 Samuel 23:8, "... raised his spear against eight hundred men, whom he killed in one encounter." Obviously he lost points for killing fewer men and for using an actual weapon to do it, which almost seems like cheating at this point.
There was also Anath in Judges 3:31, who "struck down six hundred philistines with an oxgoad." An oxgoad is a sharp stick you used to poke oxen. That started the Israeli tradition of killing large numbers of their enemies with farmyard tools, which continued through Samson and onto modern times, where the Six Day War of 1967 was won by a crippled Israeli peasant wielding a watering can.
Either way, the Philistines almost certainly remembered Samson as the worst thing that ever happened to them.
#1. 1 Samuel 18:25-27
... until David came along.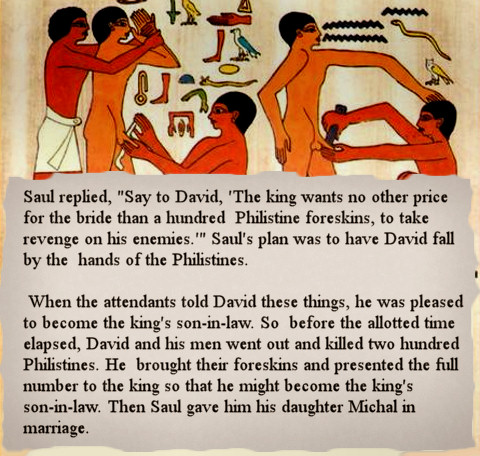 This passage raises several thousand questions. Just off the top of our head:
What did Saul (the king at the time) want with 100 foreskins? Was he going to make a scarf?
Did David think this was a strange request?
If this was secretly a plan to have David killed, why didn't he require he bring back, say, 100 bear foreskins?
Did David just wander into Philistia and kill the first 200 men he saw? Did they think this was odd? Or, with all the other shit that went down back then, did they just shrug it off?
How do you forcefully circumcise 200 men without violating the "Don't grab the junk" commandment from earlier?
Whose job was it to count the foreskins after David came back? Do they make a pair of tongs long enough for that task?
We're guessing we'll never know. It doesn't matter, because at its heart, this story is about love. For the hand of Micah, David went further than any man would have gone. Way, way, way, way, way, way, way, way, way, way, way, way, way, way, way, way, way, way, way, way, way, way, way, way, way, way, way, way, way, way, way, way, way, way, way, way, way, way, way, way, way, way, way, way, way, way, way, way, way, way, way, way, way, way, way, way further.
Ladies, when a man finally proposes to you, ask him one simple question: "How many dongs would you mutilate for me?" If you demand a hundred and he doesn't blink, he's a keeper. But, if he's David, who was sent after a hundred and then came back with twice that many just for the hell of it, well, you've got a love for the ages.
David Wong is the Senior Editor of Cracked.com and author of the somewhat ridiculous horror novel John Dies at the End, currently banned in 116 countries.
For more Cracked Bible study, see The 6 Raunchiest, Most Depraved Sex Acts (From the Bible). For other religious studies, see The 5 Most Ridiculously Unjust Religious Afterlives.
And stop by Linkstorm to discover what measurement is used for stupidity on the Internet.
And don't forget to follow us on Facebook and Twitter to get sexy, sexy jokes sent straight to your news feed.
Do you have an idea in mind that would make a great article? Then sign up for our writers workshop! Know way too much about a random topic? Create a topic page and you could be on the front page of Cracked.com tomorrow!