All of you will die someday (you, not us-we're having our brains frozen) and many of you believe in some kind of afterlife.
Unfortunately, depending on which religion you believe in, you can get totally screwed on Judgment Day based on a number of arbitrary technicalities. For instance:
Zoroastrians: Judged by Their Bridge-Crossing Ability

Zoroastrianism used to be a big deal. For a thousand years (from 600BC to around 600AD) it was the official religion of Persia, where it was practiced by legions of men in baggy pants who spent their adult lives jumping over gaps and running across wobbly floors.
But now there are barely a quarter of a million followers worldwide, which means that for every Zoroastrian, there are two tree-hugging Wiccans. It doesn't get much sadder than that. Zoroastrians believe there is one God, Ahura Mazda who created the world, and who also patrons a questionable line of Japanese cars.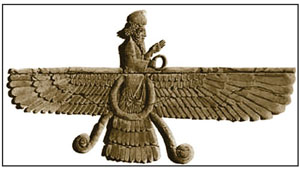 Zoroastrians' afterlife is similar to Christianity's idea of believe in the concept of there being two afterlives, one super place full of happiness where you never miss your favorite TV programs and the local stores always have those Ice-Cold coke machines outside, and another place of misery, gloom and suffering.
So What's the Problem?
Judgement is decreed by the individual's ability to cross the Bridge of Chinvat, the account keeper (a St. Peter type person). Cross the bridge and you're in paradise, sitting on your golden stool in Mazda's house of songs. Fall off and you're dropping to hell.
The Bridge, which was made by Mazda, is different for each person depending on how wholesome and wonderful they were. Lead a good life and the bridge is wide. Lead a bad one and it's narrow, and possibly wobbly and slicked with irregularly spattered dog shit. And here's a part we thought was wonderful: if you've lead a great life, you get a really hot chick (or dude if you're a woman) to accompany you. If you're a nasty person, your guide is dog-ugly and probably shouts at you as you try and get across.
So basically if you're a clumsy idiot, or have clubfoot, or are wheelchair bound and you've got a wobbly rear wheel, you can go tumbling off even a fairly wide bridge. Zoroastrian hell is probably filled with the souls of generous, caring people who just happened to have an inner-ear problem.
The other end of the scale isn't any better; if you've lead a bad life, the bridge is very, very thin (how thin, we're not sure, but let's imagine a sliding scale between the width of a small child's hips if you spent your youth taunting blind people, to the width of a standard dress loafer if you robbed a bank). Either way, if you're a capable balancer, or even have a modicum of control over your flapping extremities, you could probably get across that bridge with no problems.
Basically if you wind up in Zoroastrian heaven, avoid the tightrope walkers.
The Aztecs: It All Depends on How You Die
If you mention religion and Aztecs to some people, they will probably picture comely maidens in chains being hauled up to mountaintop altars by burly men dressed in leather. Then, if you ask someone who isn't a pervert, they'll probably tell you the Aztecs liked sacrificing people as offerings to their Gods. Particularly women and kids.
There was, however, more to Aztec religion than just gods who demanded the regular offing of children. According to experts, the Aztecs believed there were three different afterlives, one hell-like realm called Mictlan and two places which are quite nice, Tlalocan, and Tonatiuh.
So What's the Problem?
The Aztecs did not believe your fate was based on whether or not you lived a moral life. Instead, they believed that whichever of the three afterlives you got depended largely on your role in society and the manner of your death. So you could be a total shit who spent their adult life breaking into blind people's houses to move their furniture around, and depending on how you died, you could still find yourself sitting by the side of some god in the late afternoon sun, eating cheese and drinking wine with your feet in the pool.
To end up in the hellish realm of Mictlan, you had to die either from old age or from a disease (with a couple of exceptions). So, if your syphilitic Grandpa kicked the bucket, he'd be cremated along with a dog, which would serve as his guide along the dangerous, treacherous, four-year path to Mictlan.
However, to reach the decidedly nicer realm of Tlalocan, a region of abundance, eternal spring and cuddles, you'd need to be taken out either by lightning or drowning or one of the few diseases which wouldn't take you to Mictlan (pustules, dropsy or gout).
Finally, there's a celestial paradise which is ruled over by the sun god, Tonatiuh. This last afterlife is reserved for warriors or sacrifices who died in the Sun God's name, as well as women dying in childbirth (pregnant women were considered warrior-like in Aztec culture).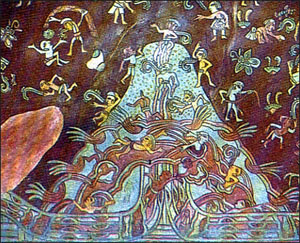 This is one of the good ones.
All this leaves a rather pressing question - what happened to those who don't die of old age, disease or combat, but instead expired about ten seconds after betting their mate they could jump across that chasm over there? No one is sure, but we like to think they basically hung around a waiting room until they finally decided to just tell the gods they died in a war.