Originally, the Toastabag people zeroed their marketing strategy on a singular niche market -- people who sucked at making grilled cheese sandwiches. That was the only food they featured on the packaging -- and not just once -- because apparently people fly into a panic whenever they come within 50 feet of a skillet, even if it's there to help create what's literally the easiest sandwich in the entire cosmos. They've since opened up their product to those who also enjoy lettuce and tomatoes, and their commercials now put a real emphasis on cleanliness and convenience.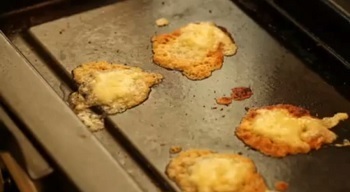 Cube Creative Solutions
Whoever organized the Wicked Witch family reunion should've checked the forecast for rain.
Down with minor stains that require minimal elbow grease to remove. Viva la revolucion! If your life is so hectic you can't take the time to wash A pan to make A sandwich, maybe it's time to cut back on the Never Ending Pasta Bowl that is your hustle hustle go go go schedule. Unless your kid is clearly going to be the next Pele, maybe ease up on the soccer and use that now-vacant square of time to properly feed the little tyke. Besides, you still have to wash the bag.
Cube Creative Solutions
"Curse you Satan, you infernal trickster!"
Also, despite knowing full well what kind of spaced-out slackjaw would actually buy this product, the Baggers devote an entire page to legitimately complex recipes, like the chimichurri steak sandwich. This requires you to not only cook the steak, but also to "puree together garlic, seeded jalapenos, olive oil, parsley, cilantro, oregano, and white wine vinegar" to make the sauce. Toastabags: for the busy sous-chef who's always on the go.