... only to inadvertently cause the lovable pooch to rise up against his human oppressors with the help of an ever-growing army of strays.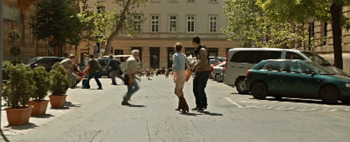 Proton Cinema
"We swear, the neutering wasn't our idea! Bob Barker is the one you want!"
It's like Homeward Bound meets V For Vendetta, with a dog staging a bloody revolution because of his love for a little girl.
Proton Cinema
We're a little disappointed they didn't paint him blue and go full Braveheart.
This is clearly going to be the most adorable tale of vicious maulings ever produced. Despite coming out in March, somehow this thing is only in a limited number of theaters, even though it's an obviously superior version of 2011's blockbuster hit Rise Of The Planet Of The Apes.
Proton Cinema, Christopher Polk/Getty Images Entertainment/Getty Images
... and with a much more vacant lead star.