Turning a bunch of plain-roaming pack hunters into wigglepuss fur pals is probably the biggest practical joke mankind ever pulled on Mother Nature. The best part about owning a dog is the subliminal power-rush of knowing that the apex predator you named "Keanu Fleas" has no idea it can kill you at any moment. The film White God explores that dynamic, along with a bunch of allegorical stuff you won't give a shit about once the dog army explodes on-screen:
Proton Cinema
"Who's a good apocalypse? You're a good apocalypse! Yes, you are!
That's from the trailer, which begins as a seemingly heartwarming tale about a young girl and her beloved dog who are forced to live with her dirtbag father. It's a classic Turner & Hooch-style laugh riot, right up until the grumpy ol' father heartlessly abandons the dog in the middle of the city like a grumpy ol' ass wipe:
Proton Cinema
... only to inadvertently cause the lovable pooch to rise up against his human oppressors with the help of an ever-growing army of strays.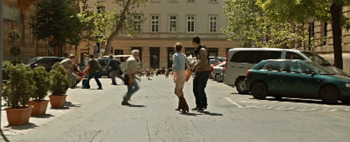 Proton Cinema
"We swear, the neutering wasn't our idea! Bob Barker is the one you want!"