Sure, it might sound exciting to be famous, with all the moviemaking and lawmaking and parties on boats. But the real exciting parts of these people's lives are the stories you don't even hear ... except for when we tell them to you. Adventures starring such people as ...
1. Ric Flair 
Before he was adopted by Dick and Kay Fliehr, the boy who'd grow up to be wrestler Ric Flair lived at an orphanage. Not because his parents died. Because he was a black market baby in an illegal scheme to coerce children out of parents or to even outright steal children. 
2. Ernest Hemingway 
Hemingway was put on trial and not for public drunkenness or starting a bar fight. He was accused of violating the Geneva Conventions during World War II by acting as an armed combatant while working as a journalist. 
3. Louisa May Alcott
If you just assumed Little Women had to be autobiographical, you might be surprised to learn Alcott lived in a commune at age 10 -- one that forbade wool, cotton, and fertilizer but was majorly into child labor. 
4. J. Robert Oppenheimer
Before his work on the atom bomb, Oppenheimer worked under physicist Patrick Blackett, and he didn't much care for the job. So he tried to kill his boss by injecting poison into an apple. 
5. Thomas Jefferson 
Jefferson owed more than $100,000 when he died. The reason? He spent so much on wine ($1 million a year, in modern dollars). He should have imported the stuff by the barrel considering how much he bought, but he insisted on bottles, sure merchants would pee in the barrels or something if given the chance. 
6. Dustin Hoffman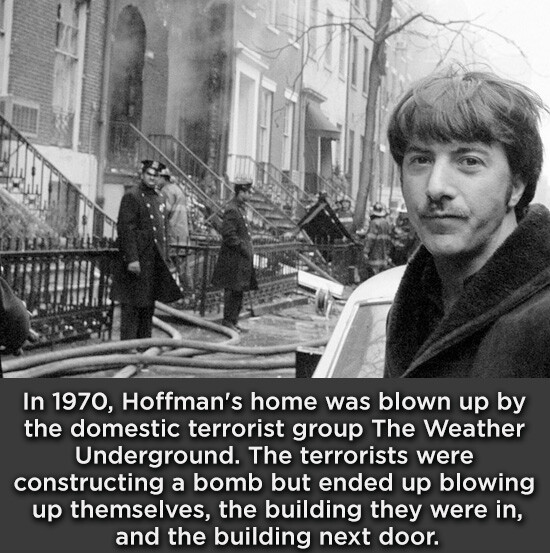 7. Vin Diesel
In 2002, Vin Diesel pulled a family of four out of a car wreck, right before the car burst into flames. 
8. Walt Disney 
Disney worked for the Red Cross during World War I. His truck broke down during a snowstorm, and he spent three days with it while his partner sought help. Finally, he set out for town and safety, resulting in a court-martial for abandoning his post. 
9. David Koch
David, the Koch brother who died in 2019, survived a plane crash in 1991. How serious was the crash? He was the only first-class passenger to make it out alive. 
10. Julia Child 
Julia Child was a spy with the OSS. Her documented accomplishments included inventing a shark repellant, and she received top security clearance for missions overseas.
11. Davy Crockett 
Crockett usually opposed President Andrew Jackson. But when an assassin attacked the president, and Jackson's own men pulled him from fighting back, Davy Crockett disarmed and beat the gunman. 
12. Steve Bannon 
In the early '90s, Steve Bannon was put in charge of Biosphere 2, the project that sealed scientists in an enclosed environment. He ran it so poorly that one scientist broke in to let the others out, and she later successfully sued him. 
13. Dog The Bounty Hunter
14. Nikola Tesla 
Some of Tesla's lesser-known inventions involved human test subjects, like the time he wanted to test the effects of one machine's vibrations. The test subject was none other than Mark Twain, and he reported that the vibrations set loose his bowels. 
15. Mark Twain 
Speaking of Mark Twain, the man was in charge of his own militia during the Civil War. It didn't go well -- they all revolted and fled from his command. 
16. Jamie Foxx
A drunk driver crashed near Jamie Foxx's home in 2016. Foxx pulled him out of the wreckage after first breaking the window and cutting the seat belt with a friend's help. 
17. Richard Pryor 
Pryor served three years in the Army, and he saw some combat ... combat exclusively against his own men. One time, he got jumped in the shower and fought back with a pipe. Another time, he was arrested after repeatedly stabbing a guy with his switchblade. 
18. Isaac Newton 
Aside from his science work, Newton worked at the British Mint, where his job involved dealing with the country's counterfeiting epidemic. Newton's solution: Executing counterfeiters by drawing and quartering them. He oversaw these executions personally.