The associate thought Rudd was blowing off steam, until Rudd followed up and offered him a choice between $200,000, a car, a motorcycle, or a house if he got the job done. It seems Australian assassins work under Let's Make A Deal compensatory rules.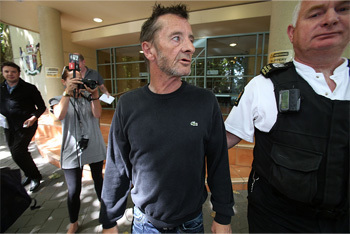 Joel Ford/Getty Images
"The mystery door was a lifetime supply of Vegemite."
Rudd also bucked another conventional rule of murder-for-hire by repeatedly calling his victim to tell him that he was coming to kill him. For some reason, the guy eventually stopped picking up the phone. When police finally came to arrest Rudd for the torrent of death threats, they also found a mother lode of meth and other drugs hidden around his home. Presumably so he could find them later, like a wonderful surprise!
However, Rudd is still a wealthy musician, which means that he was only sentenced to eight months home detention. Having completed his sentence, Rudd now regularly sees a psychiatrist and has "quit all the crazy shit." He will tour Europe in the Spring of 2017, and the fact that he did not call that tour "All The Crazy Shit" leaves us direly disappointed.