Yep, Prince was the first choice to play Ruby Rhod. Renowned fashion designer Jean Paul Gaultier drew up some concept art for Prince's proposed look, but the presentation didn't go so well. When describing the costume, Gaultier made the mistake of slapping himself on the ass while explaining that the backside would have a faux cul -- that's how French people say "fake ass," which is a surprisingly common phrase in French.
Prince didn't like that one bit and left immediately, because through Gaultier's accent, he thought faux cul was him saying "Fuck you." Here's the artwork he was shown, fake ass and all: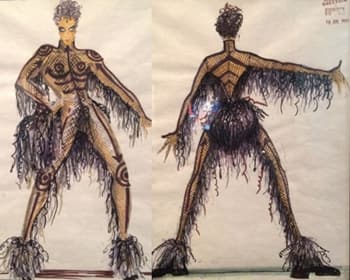 Columbia Pictures
Is it copyright infringement if your costume lifts a symbol invented to get around copyright laws?
The Purple One's touring schedule also prevented him from accepting the part, so only his style made it into the movie. They even got a replacement with his same cheek mole:
Columbia Pictures, Neil Lupin/Contributor/Getty Images
We guess Prince's diamond ear-grill was too "out there" for a character literally from outer space.