And yet ... the guy sure could run a city. Here's a scene from Batman Begins which is roughly 80 percent trash.
Warner Bros. PicturesNot to be confused with Dawn Of Justice, which is 100 percent trash.
And here's the same city after five months of Mayor Bane:
Warner Bros. PicturesNote the U.S. flag. Bane loves his country.
Gotham has never looked so clean. We guarantee there's more trash on your street than on the one up there. And that's everywhere. Even the edges of the city looks pretty clean, leaving aside the big pile of cars blocking this tunnel: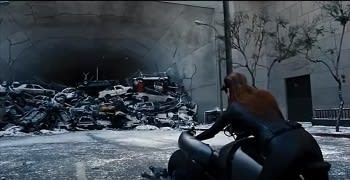 Warner Bros. PicturesAnd by "tunnel," we mean "piece of cloth taped over a wall," because this is a Roadrunner cartoon.
Those trees have been pruned! Is the Gotham Parks Department still running? Are they being paid? Has Bane done that? Does he have to balance a budget and attend cabinet meetings? Does he wear a tie over his usual getup during those?