Real-life vigilantes are usually less like The Punisher and more like these two drunken Australians who foiled the robbery of a fast food joint by clumsily flailing after the bad guys with their fists. But, on rare occasions, you get someone with just the right combination of opportunity, courage, and (in some cases) mental illness to take matters into their own hands:
David Hanley Stopped A Plane Hijacking With A Cadillac
Morven/Wiki Commons
Despite the billions of hours we collectively spend in airport security every day, hijackings aren't a very common threat. It wasn't always like that, though. In 1972 alone, 72 different airplanes were hijacked. Today, passengers complain about having to take off their shoes in a crowd of annoyed strangers -- in the '70s, they complained about getting taken to Cuba with a gun in their face. The skies were gripped in the fist of terror! But on June 23, 1972, a hero rose.
It was in St. Louis, where a madman named Martin J. McNally seized American Airlines Flight 119 while it was still on the ground. He was armed with a submachine gun and demanded parachutes and half a million dollars. While the police were delicately trying to defuse the situation, a random businessman was watching live coverage of the hijacking in a hotel bar 10 miles away. He was David Hanley, and he was about to earn the most spectacular DUI in history.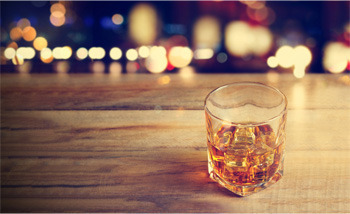 ipopba/iStock/Getty Images
"Six more of these, bartender. I'm about to need all the liquid courage I can get."
David had an awesome idea that ended in "this" and started with "fuck." He got angry and told his friend, "Turn on the radio in a few minutes and you'll hear something that will rock the world." It was a little corny, and stupid since the news would be on the TV his friend was already watching, but David Hanley was a man of action, not words.
A few minutes later, Flight 119 was taxiing down the runway to take off. This is when David Hanley, world rocker, plowed through the airport fence in his wife's Cadillac convertible, sped past all manner of law enforcement, chased down the moving airplane, and fucking crashed into the Boeing 727's landing gear at 80 miles an hour. All of that is insane, and here's what's more insane: It worked.
McNally, the man who hijacked an airliner with a machine gun, actually said, "Gee whiz, that guy must be nuts!" It was a move so crazy, even the madman had to admire it. And more than that, it disabled the plane. Hanley suffered some serious injuries, but he beat up an entire airplane. The only fatality was Mrs. Hanley's Cadillac.
NAimage/iStock/Getty Images
"Honey, I have good news. Your car died a hero."
"I'm divorcing you."
But, seriously though, she did actually divorce him.
You're probably thinking, "It was so simple! Why doesn't every hostage situation end like this?" Well, despite the bold ass-kickery of it all, it didn't help. McNally simply grabbed some hostages to shield himself from FBI snipers and stole a different plane. He parachuted out mid-flight, but dropped his gun and the ransom money. The shitty idiot was arrested a couple days later. He attempted to escape prison six years after his arrest by having a friend hijack a helicopter, but the plan was foiled by a second, completely unrelated vigilante. David Hanley didn't just foil McNally's crime: He started a vigilante trend that followed him his whole life.
77-Year-Old Don Alejo Took On A Cartel Siege
Multimedios / Family of Don Alejo
History has shown the world some pretty incredible last stands, but this may be the only one where the defending army is a single 77-year-old man. Don Alejo Garza Tamez had a farm in Mexico, a country recently plagued with drug cartel violence. You may have heard something about this.
Via latino.foxnews.com
It's ... actually become a bit of a problem.
In 2010, some drug cartel members came to Don Alejo and told him they wanted his farm. They weren't interested in buying it so much as just moving in after he fled for his life. They gave him 24 hours to comply. Don Alejo now had a few options. One: Give his farm to the cartel. Two: Call the police and hope they weren't corrupt. Don Alejo picked option three: KILL ALL THESE MOTHERFUCKERS. The cartel didn't know this, but Old Farmer Tamez was a stubborn old man with an objectively absurd number of guns.
Don Alejo told all of his farmhands to take a long weekend. He spent the remaining hours of the ultimatum cleaning his massive arsenal and fortifying the shit out of his house. He never thought twice about calling the cops, since, as we alluded to before, the police in his area were usually on the drug cartels' side.
Via npr.org
It's ... actually become a bit of a problem.
By the time his 24 hours were up, Don Alejo's house was a fortress with a rifle at every door and window. When the cartel gunmen showed up, firing into the air like hooligans, Don Alejo just started picking them off one by one. He would fire a shot or two from one location, then rush across the house as quickly as his 77-year-old knees allowed. He'd take up a new firing position with a new gun, then blast new holes into the bewildered gunmen.
Multimedios / Family of Don Alejo, Multimedios / Family of Don Alejo
It was Clint Eastwood grumbling, "Get off my lawn," taken to its logical extreme.
The cartel members fell into disarray, and it turned into a long, bullet-flying standoff. Don Alejo almost certainly went into this knowing it was his final act, and he was right. But he went out gunfighting, and the cartel had to literally blow up his house to kill him. When the bullets finally stopped coming from the rubble, the mostly killed cartel gunmen ran like hell, leaving behind four dead and two wounded (and we'll never know how many casualties they took with them). So not only did the cartel not get Don Alejo's farm, six of its members are now fertilizing his crops.