Long ago, some men in suits decided that rather than have actual people teach workplace safety, it was easier and cheaper to just force employees to watch a video.
And thus an industry was born, driven by countless filmmakers whose visions were too brutal, or brutally stupid, for Hollywood. Their creations are often bloody, horrifying and, for the most part, don't teach a fucking thing about workplace safety.
Let's take a moment to appreciate their baffling brand of genius.
Will You Be Here Tomorrow?
Warning: This work safety video is NSFW.
This video doesn't waste any time, and launches right into feeding your eyeballs nightmare fuel. In the first 10 seconds we're already exposed to a cheap 70s horror soundtrack and a roomful of people laughing at the carnage that is about to ensue.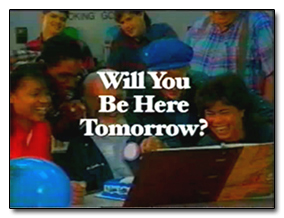 No, you will not. And that is hilarious to us.
After a vague warning about "looking out for what could happen" we're treated to a melange of chaos that makes this workplace look like the Devil's own playground. Before the first minute is over several nameless workers meet gruesome fates: One topples off an improperly stabilized ladder and is impaled like a Die Hard villain, the next has a finger torn off and then a nail literally leaps off a board into a dude's face when he fails to hit it in exactly the right way. Truly, all inanimate objects you encounter in your work day are possessed with a dark, malicious intent.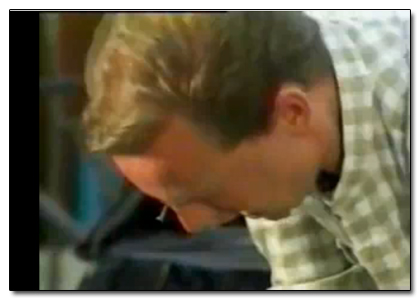 At the 2:10 mark, which is about the point that you think you've become numb to the trauma, an untethered propane tank falls over and ignites, setting off a chain reaction that launches a blue CGI hotdog into the office of the manager, cock-punching him in the face and burning the office down.

You explain this better.
While you're still wrapping your mind around that, at 3:20 a man, angered at a lack of overtime, literally crams his hand into a piece of machinery no less than three times, causing his fingers to finally come off in a geyser of blood and screams.
Note that at no point during this parade of dismemberment is any kind of safety procedure mentioned at all. We're left only with the baffling lesson that workplace accidents are equal parts horrifying and hilarious.
It's at this point the producers felt we needed a break, and we're treated to a montage of workers displaying harrowing facial hair. They all repeat some variation of "We're a team. We need to work together, pay attention and be safe."
Well... OK. We'd expect this is where they give us some helpful tips on how to avoid a horrible maiming or death, but instead we see one last unnamed worker literally Michael Bay the whole fucking plant, killing everyone. In the end, their inspirational words were but a futile whimper in the face of the horrific minefield that is the modern workplace.
The final message is clear: Like in the Final Destination franchise, Death will find you, no matter what.
Police have the unenviable job requirement of frequently dealing with deranged people whose mental faculties are fine-tuned by a lifetime consuming gasoline fumes and crystal meth. To make things worse, these people often have or believe themselves to have proficient skill in bladed weapons of all shapes and sizes.
Attempting to explain the motivation of these individuals is part of the message of Surviving Edged Weapons, a training video that seems to be half charming Canadian accents, half Filipino martial arts and 100 percent awesome. Some highlights:
The video is notable for featuring an appearance by the single most Canadian man who ever lived. With hockey hair and matching accent, he pulls a blade on a cop, then quickly drops it when the officer reveals he has a much less dangerous telescoping stick in his arsenal.

Also a cop gets stabbed in the face.
The video goes on to feature a narrator with a wealth of helpful insights, like the part where he explains that the razor-wielding hobo encrusted in his own filth is trying to say, "Don't invade my space or I will attack you." Maybe we have a different set of communication skills than the target audience, but we think the hobo was making his point perfectly clear by hollering, "Get out of my house!" and WAVING AROUND A FUCKING RAZOR.

"My personal space is important for my self-esteem!"
Likewise, later we learn that an Asian man wind-sprinting down the road, screaming and brandishing a machete represents "imminent danger."

Thanks, Narrator!
While the video's efficacy as a police training tool may be questionable, it certainly represents the finest in low budget knife fights you're apt to see outside of anything featuring Steven Seagal. Hopefully the director of this piece is still out there, maybe in Hollywood, maybe making direct-to-DVD action movies. And hopefully they all star that Canadian guy up there.