G.I. Joe is back with a vengeance this summer, and really what could be cooler than a group of constitutionally questionable quasi-mercenaries with killer nicknames and laser rifles fighting a snake-themed international terrorist organization? Nothing, that's what.
Most of the characters had reasonably developed backstories as well, provided by the ubiquitous file cards on the back of each blister-packed action figure. But for every great Joe, there was some sad bastard with a glaringly crippling deficiency that rendered them almost useless in battle. Such as...
At first glance Captain Terrence Lydon's resume seems pretty solid. Top 10 at West Point? Check. Passed over appointment at U.S. Army War College to get in on the real action? Check. Took the code name Grid Iron and wears battle gear specifically designed to remind everyone that he was the quarterback of the West Point football team like a decade ago? Check fucking plus.
That's right, Grid Iron's entire gimmick is letting people know how awesome he used to be at football. This somehow translates into success on the battlefield.

...Yeah, this can't miss.
It's like if Uncle Rico from Napoleon Dynamite had the lives of actual soldiers resting under his whim.
Most Telling Quote From File Card:
"If he would only stop trying so hard to be likable . . . they might let him play quarterback at the annual G.I. Joe Fish Fry Football Game!" That's right -- the Joes don't even let him play football.
Pathetic Weapon of Choice:
Football-shaped grenades. Outfitted as he is, it's only a matter of time before Grid Iron relapses into his glory days, drops back in the pocket and fires one deep to an unwitting Duke or Scarlett, giving the surviving Joes yet another reason to hate his guts.
Crowning Moment (of Ignominy):

Umm...
After leading the Joes to victory in a Cobra/G.I. Joe football game against the comically inept Range-Viper, Grid Iron rescues Sergeant Slaughter, flirts with Lady Jaye and destroys half the Cobra armada. As a reward for a hard day's work, Lady Jaye invites him to the uber-exclusive Studio 55, where he shows up in the same ridiculous football-themed outfit he wore all day. Let it go man, let it go.
An "ex-yuppie tax consultant," Raptor started falconry as a hobby, then discovered the lucrative nature of the sport and began breeding bigger falcons outfitted with steel claws to take down bigger game, presumably dinosaurs.
Unfortunately, Raptor must have encountered some dire financial straits, because he was caught by Destro trying to poach Cobra's, uh, mink farms.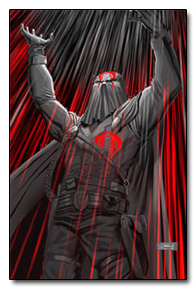 Mink is fabulousssss!
Rather than killing him, Destro recruited Raptor with the intention of using the man's unhealthy obsession to breed a bird big enough to attack the Joes. We agree that at first glance this plan sounds fucking awesome, but Destro shouldn't have had realistic hopes for its successful implementation seeing as how every member of the elite G.I. Joe team is armed with a flame-throwing laser bazooka. Raptor didn't seem to mind though, as long as he can dress up like a bird and practice animal husbandry. See, he's really into birds.
Most Telling Quote from File Card:
"The bottom line for Raptor is his non-taxable profit margin." That's the bottom line for most of us, actually.
Pathetic Weapon of Choice:
Raptor doesn't carry any weapons, though his costume allows him to fly so long as everyone turns around and doesn't look when he does it. Also, he comes with a falcon. See, he's really into birds.
Crowning Moment (of Ignominy):
Raptor witnessed the turncoat Crimson Guardsman, "Fred VII," shoot Cobra Commander in the back and helped bury the body, but then exposed Fred VII to Dr. Mindbender and took the doctor to the gravesite. As it turns out, Cobra Commander was neither dead nor impressed, and rewarded Raptor for his loyalty by burying him in a sealed freighter beneath a volcano.