Unfortunately, Raptor must have encountered some dire financial straits, because he was caught by Destro trying to poach Cobra's, uh, mink farms.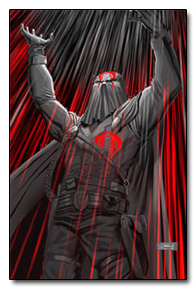 Mink is fabulousssss!
Rather than killing him, Destro recruited Raptor with the intention of using the man's unhealthy obsession to breed a bird big enough to attack the Joes. We agree that at first glance this plan sounds fucking awesome, but Destro shouldn't have had realistic hopes for its successful implementation seeing as how every member of the elite G.I. Joe team is armed with a flame-throwing laser bazooka. Raptor didn't seem to mind though, as long as he can dress up like a bird and practice animal husbandry. See, he's really into birds.
Most Telling Quote from File Card:
"The bottom line for Raptor is his non-taxable profit margin." That's the bottom line for most of us, actually.
Pathetic Weapon of Choice:
Raptor doesn't carry any weapons, though his costume allows him to fly so long as everyone turns around and doesn't look when he does it. Also, he comes with a falcon. See, he's really into birds.
Crowning Moment (of Ignominy):
Raptor witnessed the turncoat Crimson Guardsman, "Fred VII," shoot Cobra Commander in the back and helped bury the body, but then exposed Fred VII to Dr. Mindbender and took the doctor to the gravesite. As it turns out, Cobra Commander was neither dead nor impressed, and rewarded Raptor for his loyalty by burying him in a sealed freighter beneath a volcano.