10 Popular Porn Scenarios That Seem Highly Implausible
Somewhere along the way, pornographers got the idea that people only liked on-camera coitus if it had a believable back story. And, after a few decades struggling to find good actors willing to do it on camera, the industry came up with the concept of reality porn. So today there's a huge selection of videos that claim to capture real random girls tricked into having sex via some set of convoluted circumstances.
But apparently, the good ideas for reality porn were taken pretty quickly, and as you'll see, at this point they're kind of scraping the sides of the jar. We have censored the pictures to make them vaguely work-safe.
#10. BigSausagePizza.com
It's been known since the days of the Kama Sutra that nothing gets a woman quite as aroused as a man whose dick is encrusted in bits of rubbery mozzarella cheese. Thus, the team of physicists who crafted the perfect website, Big Sausage Pizza, were really onto something when they found a way to mix the thrill of eroticism with the greasy smell of deep dish.
Every encounter features an unsuspecting young lass ordering a pizza, then when it arrives, opening the box to discover the delivery man's wang jammed through the bottom of both the box and the pizza.
The woman is always surprised by this, though the positioning of the rest of the man's body in relation to the box probably should have cued her in. Either the poor man has gotten the box glued to his groin somehow, or he has his boner poked through there. The presence of the camera crew should probably have alerted her that something wasn't on the level either way.
Most Shameful Moment:
The teaser photos in which we're forced to acknowledge that the deliveryman, resembling a curious sort of Vince Vaughn meets Forrest Gump, is actually firmly rooted in what is not at all a delivery pizza, and is instead some manner of frozen personal pan cheese shit since the producers are too cheap to shell out for real pizza each time.
#9. CaptainStabbin.com

When you think of the high seas, your mind probably drifts through thoughts of sea salt, whale song and sodomy. If it doesn't, you've never been on a Carnival cruise, nor have you visited Captain Stabbin', the Internet's one-stop shop for all your house boat and backdoor fantasies.

See, he's going to put his dick there. You've just been caught up on Captain Stabbin'.
The concept of the site really doesn't flesh out much beyond "bum love on a boat," with random girls meeting the boat's captain and being summarily rutted in a variety of ways.
Though, there is the tasteful addition of each girl being tossed overboard once her poop deck's been swabbed, where they are presumably eaten by sharks. These are cautionary tales, indeed.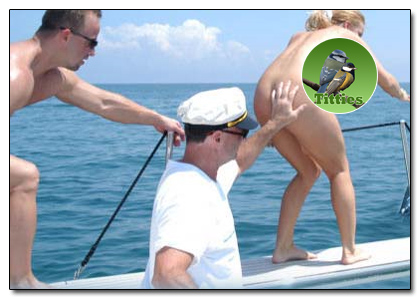 Most Shameful Moment:
Pervasive and continued reference to the boat as "SS Stabbin." Really, girls, when you saw that on the bow an anal defiling was really the best case scenario.
#8. TrannySurprise.com
Probably in college you got to experience that hilarious prank where your buddies get you an escort for your birthday and you wake up and see pictures of her teabagging your forehead because she was really a transsexual and then they send the pictures to your friends and relatives and it winds up on the Internet and you're ostracized from your community forever and every night you wake up in a cold sweat, swiping at your forehead because you feel phantom scrotum there. Hell, it happens to everyone.
Tranny Surprise takes that shocking feeling of realizing the woman you're with is not a woman, and made it into a whole website. So that every episode is like experiencing life as Danny Bonaduce.

Danny, we have terrible news for you.
Granted, it's hard to believe the same dudes would accidentally pick up a shemale each and every day and then, when confronted with the reality of the situation, experience the same uncertainty before plunging ahead (as they always do).
Most Shameful Moment:
No less than eight scenes are listed on the opening page, all Photoshopped with dialogue bubbles expressing some the shocking surprise that these ladies are more than meets the eye.

You wonder? Really? Odds are he won't be thrilled, shemale.
The undaunted search for an actual female on the part of the backward hat-wearing dudes through so many failures seems to speak to a sad, yet unflagging optimism that some day things will change for the better.
#7. IceCreamBangBang.org
It's hard to decide what the stand out feature of this site is. The preposterous concept on its own--that of an ice cream man defiling random customers--is charming enough. But the fact it's an ice cream truck, the only method of transportation synonymous with droves of unsupervised, sugar-starved children, gives it the extra special pederast vibe that so many legitimate adult sites tend to lack these days.
Throw in petite ladies in cheerleader outfits and schoolgirl uniforms, and you'll find yourself wondering if merely visiting it hasn't landed you on some FBI watch list.
Our potential sex offender ice cream man cruises about town and sells ice cream to young ladies of loose morals who are apparently so enamored with frozen treats that they hop into the back of the ice cream truck with the vendor and his camera man. There, they make passionate love in what appears to be a small room upholstered from floor to ceiling entirely in fur, some of it in a print resembling Holstein cow hide.

"I REALLY FUCKING LOVE ICE CREAM!"
Since that's the part of the truck where the frozen treats are normally kept, we have to think this violates dozens of health codes.
Most Shameful Moment:
Numerous uses of the term "cocksicle."
#6. SexForGrades.com
Stupid girls are notoriously attractive to men and these girls are extra stupid because some are still in schools that require uniforms but appear to be pushing 30. It's likely fucking for grades is really the only thing that will get them ahead in life. Perhaps these girls are suffering poor grades due to lack of appropriate undergarments and the fact they're being educated by a man who brings sex toys to work.

Still, pretty well-dressed for an unethical pervert.
The room decor, featuring inflatable Crayolas and motivational posters for second graders, is a bit of a contrast to the extended scenes of mouth-love. But it does give Ice Cream Bang Bang a run for its creepily inappropriate money.
Most Shameful Moment:
Professor Stone keeps a vibrator in his desk that needs to be plugged in.