10 Popular Porn Scenarios That Seem Highly Implausible
Somewhere along the way, pornographers got the idea that people only liked on-camera coitus if it had a believable back story. And, after a few decades struggling to find good actors willing to do it on camera, the industry came up with the concept of reality porn. So today there's a huge selection of videos that claim to capture real random girls tricked into having sex via some set of convoluted circumstances.
But apparently, the good ideas for reality porn were taken pretty quickly, and as you'll see, at this point they're kind of scraping the sides of the jar. We have censored the pictures to make them vaguely work-safe.
BigSausagePizza.com
It's been known since the days of the Kama Sutra that nothing gets a woman quite as aroused as a man whose dick is encrusted in bits of rubbery mozzarella cheese. Thus, the team of physicists who crafted the perfect website, Big Sausage Pizza, were really onto something when they found a way to mix the thrill of eroticism with the greasy smell of deep dish.
Every encounter features an unsuspecting young lass ordering a pizza, then when it arrives, opening the box to discover the delivery man's wang jammed through the bottom of both the box and the pizza.
The woman is always surprised by this, though the positioning of the rest of the man's body in relation to the box probably should have cued her in. Either the poor man has gotten the box glued to his groin somehow, or he has his boner poked through there. The presence of the camera crew should probably have alerted her that something wasn't on the level either way.
Most Shameful Moment:
The teaser photos in which we're forced to acknowledge that the deliveryman, resembling a curious sort of Vince Vaughn meets Forrest Gump, is actually firmly rooted in what is not at all a delivery pizza, and is instead some manner of frozen personal pan cheese shit since the producers are too cheap to shell out for real pizza each time.
CaptainStabbin.com

When you think of the high seas, your mind probably drifts through thoughts of sea salt, whale song and sodomy. If it doesn't, you've never been on a Carnival cruise, nor have you visited Captain Stabbin', the Internet's one-stop shop for all your house boat and backdoor fantasies.

See, he's going to put his dick there. You've just been caught up on Captain Stabbin'.
The concept of the site really doesn't flesh out much beyond "bum love on a boat," with random girls meeting the boat's captain and being summarily rutted in a variety of ways.
Though, there is the tasteful addition of each girl being tossed overboard once her poop deck's been swabbed, where they are presumably eaten by sharks. These are cautionary tales, indeed.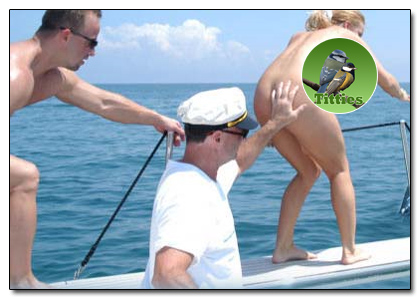 Most Shameful Moment:
Pervasive and continued reference to the boat as "SS Stabbin." Really, girls, when you saw that on the bow an anal defiling was really the best case scenario.
TrannySurprise.com
Probably in college you got to experience that hilarious prank where your buddies get you an escort for your birthday and you wake up and see pictures of her teabagging your forehead because she was really a transsexual and then they send the pictures to your friends and relatives and it winds up on the Internet and you're ostracized from your community forever and every night you wake up in a cold sweat, swiping at your forehead because you feel phantom scrotum there. Hell, it happens to everyone.
Tranny Surprise takes that shocking feeling of realizing the woman you're with is not a woman, and made it into a whole website. So that every episode is like experiencing life as Danny Bonaduce.

Danny, we have terrible news for you.
Granted, it's hard to believe the same dudes would accidentally pick up a shemale each and every day and then, when confronted with the reality of the situation, experience the same uncertainty before plunging ahead (as they always do).
Most Shameful Moment:
No less than eight scenes are listed on the opening page, all Photoshopped with dialogue bubbles expressing some the shocking surprise that these ladies are more than meets the eye.

You wonder? Really? Odds are he won't be thrilled, shemale.
The undaunted search for an actual female on the part of the backward hat-wearing dudes through so many failures seems to speak to a sad, yet unflagging optimism that some day things will change for the better.
IceCreamBangBang.org
It's hard to decide what the stand out feature of this site is. The preposterous concept on its own--that of an ice cream man defiling random customers--is charming enough. But the fact it's an ice cream truck, the only method of transportation synonymous with droves of unsupervised, sugar-starved children, gives it the extra special pederast vibe that so many legitimate adult sites tend to lack these days.
Throw in petite ladies in cheerleader outfits and schoolgirl uniforms, and you'll find yourself wondering if merely visiting it hasn't landed you on some FBI watch list.
Our potential sex offender ice cream man cruises about town and sells ice cream to young ladies of loose morals who are apparently so enamored with frozen treats that they hop into the back of the ice cream truck with the vendor and his camera man. There, they make passionate love in what appears to be a small room upholstered from floor to ceiling entirely in fur, some of it in a print resembling Holstein cow hide.

"I REALLY FUCKING LOVE ICE CREAM!"
Since that's the part of the truck where the frozen treats are normally kept, we have to think this violates dozens of health codes.
Most Shameful Moment:
Numerous uses of the term "cocksicle."
SexForGrades.com
Stupid girls are notoriously attractive to men and these girls are extra stupid because some are still in schools that require uniforms but appear to be pushing 30. It's likely fucking for grades is really the only thing that will get them ahead in life. Perhaps these girls are suffering poor grades due to lack of appropriate undergarments and the fact they're being educated by a man who brings sex toys to work.

Still, pretty well-dressed for an unethical pervert.
The room decor, featuring inflatable Crayolas and motivational posters for second graders, is a bit of a contrast to the extended scenes of mouth-love. But it does give Ice Cream Bang Bang a run for its creepily inappropriate money.
Most Shameful Moment:
Professor Stone keeps a vibrator in his desk that needs to be plugged in.
BusStopWhores.com
You know where most dudes never think to hunt for hot, sex-hungry girls? The bus stop.
But as this site demonstrates, the women who were about to pay a couple of bucks for bus fare are more than willing to pay for the same ride in your van with some on-camera boning. You know, we've ridden the bus before and we think we'd actually take that deal, too.

Probably less homeless men in the sex bus.
The only part we can't figure out is that they don't do the boning en-route, they instead drive the women back to their studio for some sex with a tattooed dude who looks fresh from prison. This clearly is delaying their trip much longer than if they'd just waited for the bus. This seems grossly illogical but, again, if it means avoiding having to ride the bus...
Most Shameful Moment:
One episode, about a girl named Starla who would be late for an interview if she had waited for the bus, features the line "She wanted the job bad so we wanted to see just how bad she really wanted that job!"
Taxicams.com
If you've ever been to Las Vegas then you probably, at some point, engaged in unprovoked, spontaneous, unsanitary taxi sex. You can try to deny it now, but be aware there's video evidence.

Above: You.
Taxicams is the site that dares to expose what clearly everyone does in Vegas cabs by outfitting a cab with hidden cameras and just waiting for all the sexy ladies who apparently get turned on by the smell of cured meat and pine air fresheners to hop in and get undressed and use themselves and/or their friends like amusement parks.
The site insists that it's all real and that the driver's job could be in danger if he's ever caught. All of this is written next to photos of the cab clearly identifying it, which makes us concerned for his employment status. Also, the women's faces are not blurred, so congratulations to the driver getting them to sign a release saying their spontaneous sex can be sold on the Internet so that strangers may pleasure themselves to it.
Most Shameful Moment:
The cab actually says "TaxiCams" on the side. "What, that? Oh, uh, that stands for 'Camaro.'"
XXXProposal
Porn is arguably always better when inspired by terrible movies and that's why the Beaverly Hillbillies was so popular. Thus we have XXX Proposal, a porno spinoff of the movie, Indecent Proposal. Here, average, down on their luck couples are approached by a random dude on the street and offered cash. All they have to do is let her bang the dude... while her boyfriend watches.
Who could say no to that?
How the financial situation of the couple is established is never addressed that we could see, maybe there's a pre-approval process. Then again, neither is any explanation forthcoming as to why several women have the same boyfriend, just in various preposterous disguises across different episodes.
Most Shameful Moment:
The dejected look on the face of a Jimmy Kimmel-in-disguise looking boyfriend while his girlfriend gets railroaded six inches away from him on the sofa.
EuroBrideTryouts.com
Combining the creepiness of mail order brides with the "test drive" process one uses to buy a used car, we have Euro Bride Tryouts. Apparently there's a market for women desperate to escape whatever poverty or war they face in their own Third-World countries, as mail order brides meet their potential spouses and immediately ride them like show ponies before coming to America.

"Quick, honey, I need you to iron this frying pan and then fuck me."
No statistics on the site mention how many of these unions resulted in a long lasting marriage, but since it's the same dude every time, it's possible that the number remains low.
On the other hand, kudos to him for being so worldly and wealthy that he can travel to Europe on such a regular basis.
Most Shameful Moment:
This is the All-American groom these ladies are hoping to impress:
As you can see, the guy is totally and completely as American as apple pie. And the extremely thick Euro accent he puts on in the videos is clearly only to make the girls feel more at home.
NaughtyTherapy.com
This site readily acknowledges what we've all known for ages: nothing is as sexy as a mental disorder. Thus, the concept of women with moderate to severe emotional or psychological trauma taking the ramrod from mental health professionals is one that society has been begging for and now can finally enjoy. Thanks, Internet!
Episodes demonstrate non-APA approved treatment methods for delusions, depression, split personality disorder, chronic bitching and cock withdrawal. Curiously, the prescription for each is wang.

"Could you go ahead and masturbate for me? It's cool, I'm a doctor."
It's likely even Dr. Phil would be hard pressed to acknowledge that deep-dicking can or even should be used to cure such a wide range of ailments. The women do seem to show short-term improvement, sure, but we think it's a huge oversight that they don't follow up with the patients to see how they are progressing a few months after their, quote, "hot beef" treatment. This method clearly needs further study.
Most Shameful Moment:
Psychotic is misspelled on the first page.
For pictures of hot, nude Fortey check out scenicanemia.com.
Check out why we ran this article, in 6 Ways That Porn Runs The World. And check out more baffling porn concepts, in The 6 Most Inappropriate Porn-Character Occupations.
And visit Cracked.com's Top Picks to help us fund our reality porn project, in which we send DOB around in a book mobile.
Scroll down for the next article