We all laugh when some nutjob calls 911 because McDonald's ran out of McNuggets. But the world is full of crazy people, they all own phones and 911 is the one number they all know. We shouldn't be surprised.
No, the horror stories happen when regular folk in an emergency call 911 and find the craziness happening at the other end of the line. For instance. . .
Nashville Operator Doesn't Give a Shit
People have been known to call 911 for some pretty stupid reasons: keys locked in the car, slow traffic, loud fireworks, knife wielding ex-boyfriends breaking in the house threatening to kill them. Whoa! That last one doesn't seem to fit the description at all! But when Sheila Jones called 911 in Nashville to report that very thing, the response she received was akin to what one might expect if calling an emergency line to report an ingrown toenail.
After her first call went unanswered, Jones called back and got fantastic news. Officers had been dispatched, but another more important call came in, so they answered that first.
What could be more important than a potential stabbing? A traffic stop, of course! A traffic stop that, in the interest of maintaining our faith in humanity, we will assume was of the GTA IV variety, involving multiple gunshots and at least one person that had burst into flames.
But the shenanigans don't stop there. Jones made a third call after more than two freaking hours had passed with no sign of help. After the call ended--but with tape still rolling--we hear the last damned thing you want to hear when you call 911..."I really just don't give a shit what happens to you."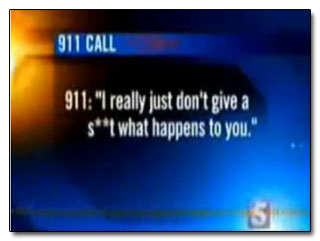 Nice.
So, What Happened?
Fortunately, Jones's boyfriend never did get around to actually killing her, presumably because even he started feeling sorry for her after the police failed to show. She did eventually get police to respond to her call, but only after contacting the fucking mayor's office.
When a local news affiliate got wind of the story, they investigated and uncovered the not a shit giving 911 operator's antics. He was immediately fired. At least we hope it was immediate, but don't count on it.
Memphis 911 Operator Falls Asleep on the Job
As anyone who has ever worked a customer service gig can attest, the general public is, for the most part, pretty damn boring. Sure, you get calls from the occasional basket case who threatens to end your shit with a chainsaw unless you reverse that $5 late fee, but mostly it's just mundane questions about things you don't care about. You would think this would not be the case for, say, a 911 operator. The constant stream of calls about gunshots, robberies and out of control chimpanzee attacks would be enough to keep anyone on their toes, right?

We use this pic whenever we can.
Apparently, it is not, as evidenced by a Memphis woman's experience when she called 911 to report that someone was tapping on her window:
Things begin with the woman explaining her situation to the 911 operator. The above news report then devolves into what looks like an infomercial for shitty emergency responder service.
If you call today, we'll ignore your plea for help for 15 full seconds, responding only with dead silence!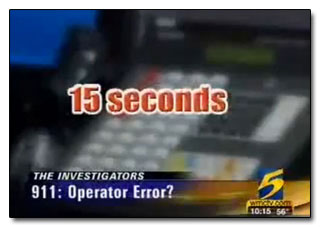 But we're not stopping there! Act right away, and we won't just double it...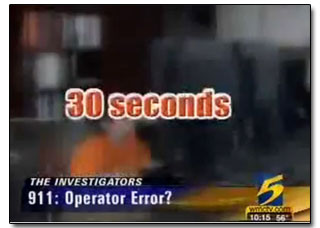 Nope! If you call 911 today, we'll pass right the Hell out for one full minute!
If you listen close, you can actually hear dude snoring on the phone. He eventually wakes up and gets down to business by asking for the woman's address. The address she had already given him before he passed out.
So, What Happened?
After months of badgering by a Memphis reporter, an investigation into the call was finally launched. The operator on duty was suspended for seven days. That oughta show him! His supervisor was suspended for 20 days, because when you fall asleep at your job, it's totally your boss's fault.
As for the caller, she eventually got help, and we quote, "when she called another 911 agency." What? Like who, the A-Team? Spencer for Hire? Seriously, we're asking.