Perseverance is what makes mankind great. Where would we be if George Washington stayed home smoking his weed and boning his slaves? How many of us would still be masturbating to our mom's old issues of Glamour if the guys who invented the Internet hadn't stuck with it?
But for some people, perseverance beats them up, slaps them around and makes them dance around in a pretty pink dress. These are the people who should have known when to quit... but didn't.
Troy Hurtubise, Bear Fighter
His Dream:
Designing and constructing grizzly bear-proof armor.
His Quest:
The strange journey of Troy Hurtubise begins with two seemingly unrelated events. First, when Hurtubise was 20, he was attacked by a grizzly bear while hiking. Hurtubise escaped unharmed, but he became extremely interested in grizzlies and wanted to find a way to "study" bears safely, and by "study" he apparently meant "get his revenge by beating the shit out of."
Three years later, when he was in college, Hurtubise was struck with the inspiration to build a grizzly-proof suit of armor while watching Robocop. This is probably not the first epiphany ever achieved while watching a Paul Verhoeven movie, but probably the first one that did not lead to either criminal charges or new laws being written.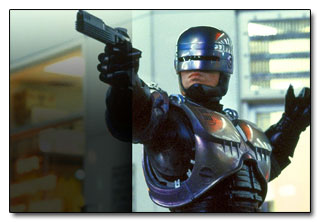 "Your move, Bear."
Hurtubis, apparently unaware that things you dream up when you're stoned out of your mind at three in the morning watching Robocop should be promptly forgotten about, decided to build the damn thing.
But Should Have Quit Before...
Hurtubise spent the next seven years and over $150,000 constructing this:
Keep in mind that this is the Mark VI. That means that he made five suits before coming up with this. Hurtubise spent all of his money, nearly lost his wife and son, and wasted countless hours of his life building a suit that looks like it was thrown together by a couple of cosplayers the week before Dragon*Con.
But don't let its incredibly shoddy appearance deceive you, the thing actually worked. Hurtubise didn't want to pussy around with a bunch of "science" tests in some "lab." If you're going to test bear-proof armor, you go to the closest thing thing to a grizzly bear you can pay with beer: bikers. Hurtubise hired a bunch of biker dudes to beat the crap out of him with baseball bats and two-by-fours.
He also had someone hit him with a car and throw him off a cliff to prove that not only was the suit effective, but that Hurtubise was clinically fucking insane. After several more tests, a Mark VII and a new suit of armor called "The Trojan," Troy Hurtubise has still yet to use any of the suits for their original purpose: studying bears. Unable to find investors rich and/or stupid enough to back him, his financial difficulties forced him to sell the Trojan on eBay.
Unfortunately nobody on eBay was rich enough (or wanted to fight bears bad enough) to meet his list price, so he just ended up raffling the thing off. Broke, unable to interest anyone in his designs and exhausted from years and years of failure, Troy Hurtubise took a long hard look at his life, reflected on the mistakes he'd made and built another goddamn set of armor.
Darius McCollum, Train Thief
His Dream:
Working for the New York City Transit Authority.
His Quest:
Obsessions come in all shapes and sizes, but fewer are harder to understand than an obsession with trains. For most of us, trains are means to an end. They take us to work, they allow us to experience the sights and sounds of a place when we're traveling, and they're awesome for secretly feeling up strangers. For Darius McCollum, they're the equivalent of a cheeseburger that blows you while you eat it.

"Hey. Hey train. Whatcha doin' later? Carrying passengers? Hot."
McCollum grew up in New York and by the age of five, when most people are still not 100 percent sure where the bathroom is, he had memorized the entire subway system. Shocked at how little respect and admiration this earned him with other kids, McCollum's obsession grew until in 1981, at the age of 15, he stole the E-train.
You may be asking yourself, "how the fuck do you steal a train?" Well, he didn't exactly steal it, he more sort of borrowed it. McCollum hijacked the train and drove it along its regular route. He was so good, in fact, that the passengers had no idea anything was wrong. Passengers only became suspicious when they noticed that the driver was doing his job in a professional manner and wasn't muttering "fuck 'em all" under his breath over and over.
McCollum was eventually caught and charged.
But Should Have Quit Before...
Instead of enjoying his joyride and devoting his energies into a full time masturbation regimen like other, healthy 15 year olds, he kept on stealing trains. McCollum has been arrested 26 times and incarcerated for 19 of them. All this just to pretend to do a job that the people who actually do probably loathe.

In a rare moment of clarity, McCollum wonders how his life would have been different if had just decided to be really into Star Wars.