15 MORE Images You Won't Believe Aren't Photoshopped
#7. The Jeff Foxworthy Estate
This mess of tacky trailer homes isn't a Photoshop, but it's not a living complex either. It's a set for a play in Amsterdam. We were going to question the sense of using a trailer park for Anton Chekov's Ivanov, a 19th century Russian tragedy, until we read a synopsis. The play features down on their luck peasants, gun violence at weddings and a main character who's deep in debt and has some spousal difficulties. The only thing missing is stock car racing.
#6. The Miracle of Creation (During God's Teenage Years)
It's a real iceberg shaped like a pecker. We're going to leave it at that.
#5. A Water Park Designed by MC Escher
What sucks about magic is the tricks are always incredibly lame once you know how they're done. This one is no different: it's supported by a pipe running up through the water.
#4. If a Million Raccoons Rummage Through a Million Trashcans...
From the "holy shit that must have taken forever" category, this sculpture is by some inventive artists making shadow art using garbage, carefully positioned to form the silhouette. We're sure the rats living in the pile see the whole thing as evidence of intelligent design.
#3. Home of the 404 Burger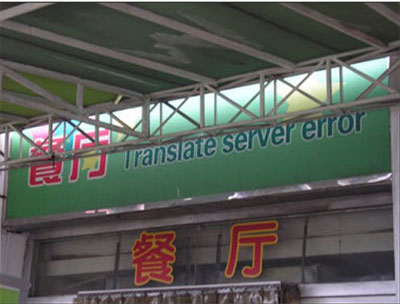 Something this groan-worthy can only be real. A photo of this restaurant in China made the rounds over the summer during the Olympics.
Apparently restaurants there made a big push to get English on their signs to cater to tourists, but at least one business didn't have a single English-speaking friend they could ask. So they plugged it into Babelfish and ... you can imagine the rest of the story, which must involve at least one sign company who just didn't give a shit.
#2. Actually, a Translation Error Would Have Improved This One
Man, just imagine all of the uses. Wait, do dogs even sweat? We smell bullshit here. This is actually a spinoff of a popular Japanese drink called Pocari Sweat. We don't know who Pocari is either, but we're going to go ahead and assume he's a Sumo wrestler.
#1. "Our Top Notch Security Will Find the Cock in Your Luggage"
If you're not sure what's so funny about the above image taken from a public Birmingham International Airport report, look in the lower left hand part of the suitcase.
The document is still available on their website, (Click 2007-2008 Report) though you'll notice the mechanical dick has been crudely photoshopped away, in a bit of revisionism that reeks of Stalinism.
CONTINUE: 16 MORE Images You Won't Believe Aren't Photoshopped...
If you liked that, check out The 5 Greatest Background Performances in Viral Videos. And don't miss Ross Wolinsky's look at The 5 Lamest Forwarded E-Mails (And Why Your Mom Loves to Send Them). Or, head here to find out how you can get paid to write for Cracked.