If you want to achieve immortality, the easiest way is to first rise to prominence, and then just completely disappear off the face of the earth. Think about it--would you have ever heard of Jimmy Hoffa otherwise? The man's been gone for 30 years and they're still trying to find his ass.
Well, here's six more people who seemed intent on giving Hoffa a run for his money: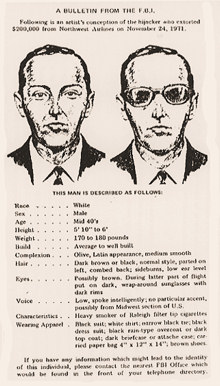 Who was he?
On November 24, 1971, a man boarded a plane in Portland under the mundane fake name of Dan Cooper (we would have gone with "Viktor Blimpmuscle" or "Saxon Wolfcock" but to each his own). He was dressed in heavy clothing and sunglasses and had a bomb in his suitcase. This was in an innocent time before anyone realized passengers should be checked for that sort of thing, so security was based on the honor system.
Mr. Cooper sat down and handed a note to a stewardess telling her the plane was being hijacked and that he had a bomb (hijackers weren't nearly as rude back then). He demanded $200,000 and four parachutes upon arrival in Seattle.
This is the point in most hijackings where the plane lands and a police sniper shoots the hijacker in the head. Cooper, however, had a plan.
Once on the ground Cooper let all the passengers off (keeping three crew members on board to fly the plane) and in exchange, he got his cash and parachutes. He ordered the pilot to take off once more, while the FBI could only stand on the tarmac below and shake their fists up at the sky.
Cooper and the crew flew to Reno, Nevada, where he forced them to fly the plane low and slow, which are parachutin' conditions. Cooper lowered the rear stairs, jumped out, and was never seen again. All he left behind were two of the parachutes and his tie.
When the police couldn't find the body or the parachutes they started hauling in everyone and their hijacker-looking friends. The list of suspects was at one point around 1,000 people. The first suspect they dragged in was a Portland man named D.B. Cooper who was quickly cleared as a suspect, although the media ran his name as the hijacker's alias (again, all this could have been avoided if he picked an alias like "Brock Meatstone" or "Senator Samson Loveblast").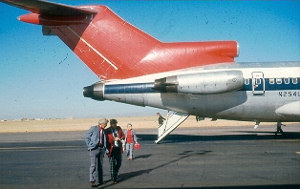 What They Say Happened:
Officially the FBI has stated that Cooper didn't survive the jump. The FBI reached this conclusion based on the fact that Cooper appeared to be a card carrying idiot, seeing as how he jumped in the middle of a heavy rainstorm and could have had no idea of where he was going to land (he was somewhere northeast of Portland when he jumped). In 1980 a local boy found $5,880 of Cooper's ill-gotten cash washed up on the shores of the Columbia River. The FBI figured the money meant he was either dead or got mugged by Bigfoot.
What We Think Happened:
We'll give him the benefit of the doubt and say he landed. We like to think that immediately after, he was accosted by a group of mountain men who did indescribable things to him. They then took his money, moved to Seattle and opened the first Starbucks.
Who was he?
Ambrose Small was a Canadian theater tycoon, which is several stages below "Nigerian pogo-stick tycoon" in the tycoon hierarchy. At his height he owned virtually all the theaters in eastern Canada, which he was able to acquire with the help of his wife, a heiress to a brewery fortune. He was also known for being a gambler, a womanizer and openly hating poor people. He was equally known for being a possible walrus hybrid.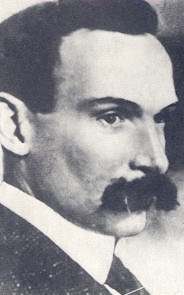 In 1919 he decided to get out of the theater business, selling his properties for $1.7 million. The day after he sold all his properties he left his lawyer's office and was never seen again. Your thinking to yourself, "Well he was a rich asshole with enemies, someone probably killed him for his money!" The only problem is that his money was left untouched.
The police were baffled. There was no ransom note and no motive for Ambrose to leave the country without his cash. The police tore the country apart and found nothing, which is what you would expect to find in Canada.
His wife became a suspect, as Ambrose had several mistresses who rode the walrus over the years in a secret room he had built into his office. She was cleared as a suspect and would later donate the money to the Catholic Church.
What They Say Happened:
When they couldn't find anything, the Canadian police followed their SOP and contacted some crazy people claiming to be psychics. The popular theory among them was that Ambrose suddenly came down with a case of amnesia and in his forgetful state, he decided to fucking hide from everyone. They finally closed the case in 1960 after exhaustive Canadian research concluding that if he wasn't already dead, then he would be really fucking old.
Today people claim that his ghost haunts two of the theaters that he used to own, at least until they're torn down to build a couple more Tim Hortons.
What We Think Happened:
He was shamed by his lifestyle and decided to leave the money behind, stored up on blubber and went back to his kind.