Cooper and the crew flew to Reno, Nevada, where he forced them to fly the plane low and slow, which are parachutin' conditions. Cooper lowered the rear stairs, jumped out, and was never seen again. All he left behind were two of the parachutes and his tie.
When the police couldn't find the body or the parachutes they started hauling in everyone and their hijacker-looking friends. The list of suspects was at one point around 1,000 people. The first suspect they dragged in was a Portland man named D.B. Cooper who was quickly cleared as a suspect, although the media ran his name as the hijacker's alias (again, all this could have been avoided if he picked an alias like "Brock Meatstone" or "Senator Samson Loveblast").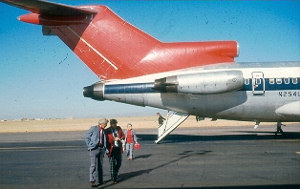 What They Say Happened:
Officially the FBI has stated that Cooper didn't survive the jump. The FBI reached this conclusion based on the fact that Cooper appeared to be a card carrying idiot, seeing as how he jumped in the middle of a heavy rainstorm and could have had no idea of where he was going to land (he was somewhere northeast of Portland when he jumped). In 1980 a local boy found $5,880 of Cooper's ill-gotten cash washed up on the shores of the Columbia River. The FBI figured the money meant he was either dead or got mugged by Bigfoot.
What We Think Happened:
We'll give him the benefit of the doubt and say he landed. We like to think that immediately after, he was accosted by a group of mountain men who did indescribable things to him. They then took his money, moved to Seattle and opened the first Starbucks.