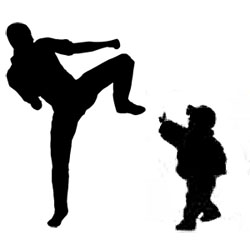 I'm not going to ask why you're fighting twenty children. That's your own business, although most reasons are as old as time itself:
1) They started it.
2) You flipped over the table while losing a Magic: The Gathering game, and damaged several rare cards.
3) They stole your woman.
4) You stole their woman.
5) You've had enough of their bullshit.
Whether you're a good man who was in the wrong place at the wrong time, or a dangerous maniac, we here at Cracked want to help. That's why we've consulted with the experts (who did not wish to be named) on how to maximize your odds of winning a fight against twenty children. Follow these guidelines, and your opponents will wish they were never born 6 or 7 years ago.
_________________________
Use An Appropriate Technique
Modern mixed martial arts are geared almost exclusively towards one on one combat, and are not designed to take on multiple tiny aggressors. As a grown adult, you could be fairly assured of absolutely destroying a 7 year old if you took him to the floor for a ground and pound. But by doing so you'd expose your back and head to his peers. Your best bet is to stay on your feet and use striking techniques. Karate is one good choice - it was originally designed in the 1600's for use by unarmed Japanese day care workers.