Riddle us this: While Superman answers all cries for help, why can't even the Man Of Steel save this screaming guy from his inner torment? Perhaps the futility of man is such that no matter how strong we get, or how many speeding bullets we outrun, or how mightily tall the buildings are that we can leap in a single bound, we will always be defeated by the existential conclusion that life is meaningless. Or ... maybe this guy is screaming because Superman said something incredibly racist. He does that sometimes.
The Teenage Mutant Ninja Turtle version of Michelangelo's David improves upon Renaissance Michelangelo's version in almost every way. Most noticeable: TMNT Michelangelo's work contains 100 percent less genitalia, something Renaissance Michelangelo never could seem to muster. But, as art connoisseurs, we notice even the most subtle alterations. Notice how TMNT David brandishes some pizza. Is this an act of defiance, taunting any would-be Goliaths? Or perhaps the slice champions the working-class peasants of 16th-century Italy, making the best and most radical of their meager bread and cheese and sauce. Whatever it means, Renaissance Michelangelo only wishes he had stopped thinking about dicks long enough to add such significance to his sculpture.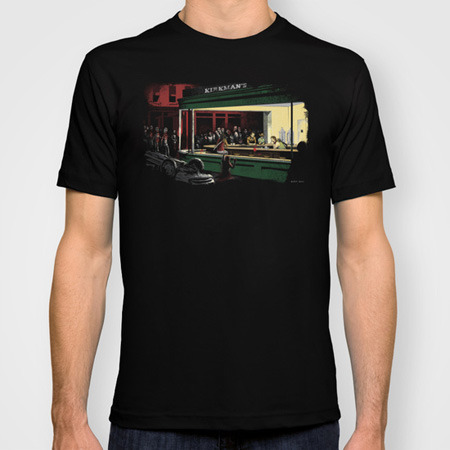 By now your friends might be catching on to art interpretation and eager to join in. "So it's a scene where a guy enjoys a drink while the outside world is rampaged by zombies," one friend might say. "Maybe it represents how happiness comes from within, or it's a comment on isolationism." Humor them with a chuckle before smugly explaining that this is actually an abstract piece meant to be viewed while high on peyote and standing upside-down. Maybe later you'll show them something more their speed. "Andy Warhol paints soup," you'll say. "You twerps like soup, right?" And remember to say "soup" extra slow so that shambling gang of doofuses has time to process it.
You'll cement your title as the deepest mother around when you explain how fate is nothing more than the gods playing poker. We can assume Loki is cheating or that when Kratos loses he's going to flip the table, but ultimately, we mere mortals are powerless to interfere regardless of the outcome. If your friends are still listening through all this bullshit by this point, then congratulations, you're now a god of art.
There you have it! Dress better and more artfully NOW. And remember: While not all art is timeless, good style lasts forever.
More Blogs