There is only one possible set of circumstances that would lead someone to place an ad on the internet that claims a hummus recipe you must write down:
1. All digital technology is about to fail, and
2. It is a really good hummus recipe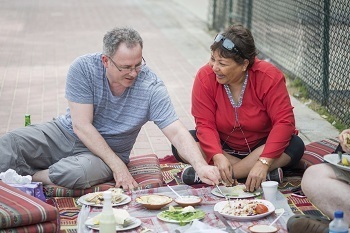 PamelaJoeMcFarlane/iStock
You will drop everything you are doing. You will eat it in the street.
We must write down this hummus recipe, which means we are about to see the failure of every smartphone, tablet, laptop, and data center. As global debts are erased and planes drop out of the sky, we will be consoled by one thing and one thing only: a presumably fantastic hummus recipe. You will no longer have your health records, your life savings, or any means of contacting distant friends or family (and, in this chaotic future, that may be a blessing), but by the grace of this ad you will have this hummus recipe. Cherish it as you warm yourself by the fire of so many useless Apple Watches. (OK, even-more-useless Apple Watches.)