What you're seeing is a handful of the 30 presumably exhausted artists currently hand-painting the 56,800 separate frames that will make up a film about Van Gogh's manic life. And no -- not every European animation is done by artfully daubing each canvas-sized animation cel; this one has been specifically done to look like the entire story takes place in our protagonist's paintings. It's an endeavor that took a total of two years to complete, at a rate of one painting every 40 minutes. The result?
BreakThru Films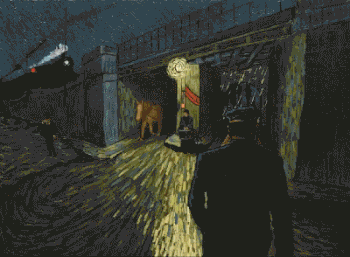 BreakThru Films
BreakThru FilmsEvery Frame A Painting. Literally.
And it's not just the visuals that are obsessively intricate, as the plot itself was pulled from 800 different letters by the artist and is presented as a series of interviews and reenactments surrounding the circumstances of his death. It comes out this September, and it's still being completed in Poland and Greece. The film's production raises the question of why more biopics about visual artists aren't done to mimic their style. Just imagine the cinematic wonderment of H.R. Giger's childhood depicted as a roiling ocean of disembodied dicks.