From reusing frames to digital coloring, the odd goal of animation has always been to give the "fuck off" to animators as soon as technologically possible. And while evicting pencil jockeys might be the natural evolution of the industry, a European film called Loving Vincent is taking animation so far backward that it's aping an era that never even existed.
BreakThru FilmsExcept for inside Walt's fever dreams.
What you're seeing is a handful of the 30 presumably exhausted artists currently hand-painting the 56,800 separate frames that will make up a film about Van Gogh's manic life. And no -- not every European animation is done by artfully daubing each canvas-sized animation cel; this one has been specifically done to look like the entire story takes place in our protagonist's paintings. It's an endeavor that took a total of two years to complete, at a rate of one painting every 40 minutes. The result?
BreakThru Films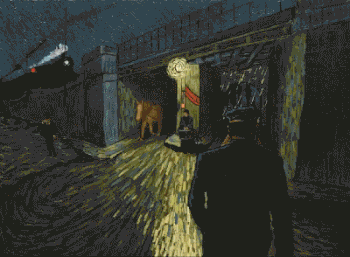 BreakThru Films
BreakThru FilmsEvery Frame A Painting. Literally.