Now let's compare those to what a normal city street looks like after 11 days of a garbage strike:
Denis Doyle/Getty Images News/Getty Images
Clearly, someone is collecting Gotham's trash, so we can only assume that there was a deleted scene in which Bane took a break from fist-based murder and held a meeting that detailed an orderly garbage-collecting roster using PowerPoint slides: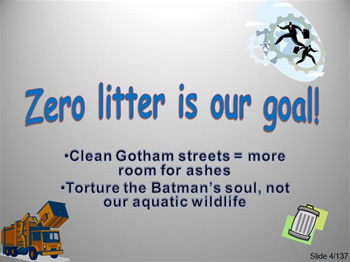 "When the polyethylene terephthalate bottles have been separated from the miscellaneous polystyrene,
then you have my permission to recycle."
The streets are also apparently getting plowed, which is more than Gotham's real-life counterpart can manage when it's not being occupied by evil mercenaries. Sewerage and water are presumably still running, judging by how clean everyone looks and how much typhoid they don't have. The cops trapped underground are being fed, which means that the occupation has a functioning welfare system that extends even to its political enemies. Electricity is common enough for people to talk about watching TV. And all this without anyone paying any taxes. Nolan's depiction of a socialist nightmare actually looks pretty sweet. Maybe Venezuela can learn from the masked sociopath, and prevent all those toilet paper shortages it keeps having.
Reuters/The Atlantic
Yes, Bane did have a bomb that was going to blow up the city. But that just means that Nolan's message ended up being "violent socialist revolutions are alright, provided that no one stumbles on any experimental nuclear weapons."