In case you haven't played Yahtzee since the last time your power went out for a week, here's a quick refresher of the rules: roll dice.
And that's it! You score points by rolling certain combinations, but you're still just rolling dice. This works as a televised thing on The Price Is Right because Let 'Em Roll is one of dozens of different mini-games played each week. It doesn't work when given its own show, because it's just dice.
The sad scientists behind 1988's Yahtzee likely realized this, but instead of doing the right thing and pitching a better idea, they simply turned the game into Hollywood Squares Part II: Electric Boogalosers, complete with original Squares host Peter Marshall awkwardly stumbling through his lines while fantasizing about his paycheck.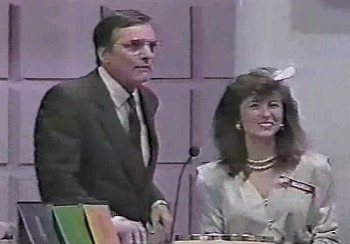 Ralph Andrews Productions / Bernstein-Hovis Productions
And every contestant.
Yahtzee further Squared things up by bringing in any F-list actor desperate enough to pick up their dusty, unused phone, sitting their asses in a giant box, and having them answer inane questions like "What should we do to celebrate Richard Nixon's birthday?"
Ralph Andrews Productions / Bernstein-Hovis Productions