And then there was Grand Theft Auto IV.
I have some conflicting opinions about GTA IV: I think everybody should own it, because what Rockstar accomplished with the living, breathing city they built is a feat that transcends gaming and ventures into science fiction territory. It's just too bad they layered an irreparably broken game on top of it. The controls were awful, the missions were lifeless and repetitive, and they generally seemed to lack any kind of creativity or imagination with which to fill their staggering technical achievement. Just a tip, guys: Next time you build a rich and believable environment, remember that we can already jump into a beat up old Bonneville and drive our fat cousins to the bowling alley. That is not the realm of fantasy; that is the realm of New Jersey on a Saturday night.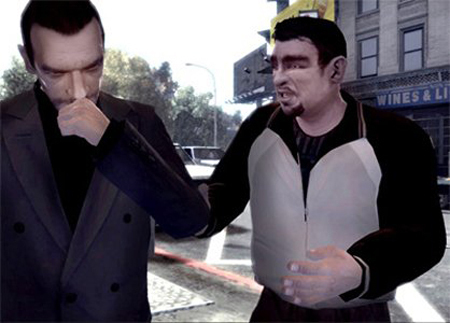 Source."Welcome to a rich fantasy world, cousin! Now, let's pick up my wife's blood pressure medicine and fall asleep watching soap operas!"
And yet, despite itself, GTA IV possessed what might have been the most fun multiplayer mode of any current generation game. So what was so ingenious about this new and novel mode?
Nothing.
They didn't do a damn thing. They gave the player a Grand Theft Auto city and allowed multiple players in the same space. The end. No objectives, no scores, no penalties -- just you and a dozen of your friends, all with infinite lives, set loose in the most dynamic landscape built in video game history.
That's the definition of fun: Just let us do whatever we want, whatever it is, with no rules, and we'll make up our games along the way. Whether that's just an endless, pointless brawl; hanging out and exploiting one of the many glitches (like launching cars from the infamous swing set); going garbage truck jousting; or my personal favorite, playing Hello Copter, where the entire point of the game is to steal a helicopter, hover just above one of your oblivious co-players and then bail out, shouting "Hello, Copter!" just as your body smashes into the pavement next to them, followed a split second later by an exploding helicopter.
Source."GREETINGS, HELICOPTER! Shit, did I do it wrong?"