Wizarding World Map: 15 Real-Life Harry Potter Spots
The events of the Harry Potter series are ostensibly limited to London, Hogwarts, and the magical railroad connecting them, but it turns out their real-world counterparts are farther flung than J.K. Rowling's attempts at retcon. Some of them are even realer than you could ever imagine. Suck it, Universal Studios!
King's Cross Station
From all the amenities offered to Harry Potter fans, you'd have no idea their primary business is, you know, transportation. It's not just the sculpture of a trolley stuck halfway into the wall at Platform 9¾, which must be annoying for real wizards -- they've got a professional photographer on hand 12 hours a day to take your picture in the gang-affiliated scarf of your choice. There's even an entire Harry Potter shop.
West Coast Railways
Yes, the Hogwarts Express is real. The actual train is kept at Warner Bros. Studios London, but you can ride a similar one from the company that provided it with carriages used in the movies over the same route, including that stilty bridge, which is called the Glenfinnan Viaduct. You could get a much better view by helicopter or something, but dammit, this is more magical!
Half-Blood Prince opens with Death Eaters manipulating the wind around London's Millennium Bridge until it collapses, which couldn't have been much comfort to the pedestrians who had already nicknamed it the "Wobbly Bridge." Technically, though, the Millennium Bridge hadn't been built yet in the year the movie takes place, so it's a fictional real-life bridge.
Loch Shiel
Scotland's Loch Shiel stood in for the Great Lake where the Triwizard Champions' loved ones were temporarily drowned in Goblet of Fire, though you'd never know it from photos, which just look like a nice day at the beach. Be wary, though -- it's still Scotland, a magical place of whiskey and unicorns. There very well could be asshole mermaids down there.
Related:
The Balmoral Hotel
Probably the most historically significant Harry Potter landmark didn't appear in the movies at all. It's the Balmoral Hotel, where J.K. Rowling finished writing the series and marked the occasion by signing a bust of Hermes in a room that's since been commemorated to its tackiest extreme, complete with owl door knocker.
George Heriot's School and Greyfriars Kirkyard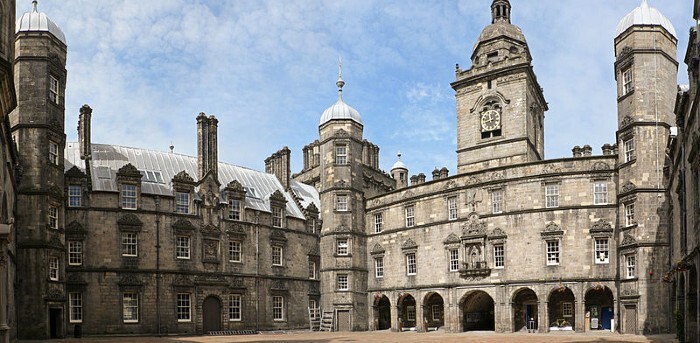 Also not seen in the movies but extremely thoroughly seen in the movies is George Heriot's School and the graveyard behind it, where Rowling walked around during her breaks from writing the first book at her brother-in-law's cafe. The school is divided into four houses that sound suspiciously like Hogwarts's, and the graveyard's headstones bear names that obviously inspired Rowling. There's even a Thomas Riddell.
More of a State of Mind
Hogwarts is obviously the most iconic location of the wizarding world, but it turns out it wasn't one location. The exterior shots are of Alnwick Castle, but much of the interior was filmed at the University of Oxford, with various cloisters, corridors, and classrooms at Durham and Gloucester Cathedrals and Lacock Abbey (hee). Much like a world where the Harry Potter universe hasn't been tainted by Rowling's weird Twitter activity, Hogwarts is a state of mind.
Top image: Warner Bros.