That's ... that's a lot of cancer-fightin' money. Surely, every penny has gone to the greater good.
Well, not so much. It turns out that some of that pocket change you handed over goes to making sure that mom and pop charities don't use the word "cure," or even the freaking color pink. Real, actual money that could be used to help fund research instead goes directly into the pockets of lawyers (both for Komen and for the Joe Shmoes being sued). How dare Mary Ann Tighe of Long Island run a kite-flying event to fund lung cancer research and call it "Kites for the Cure"? Or the other 80-odd organizations that used the word "cure" or the color pink in some form?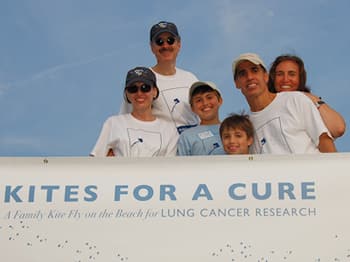 Kites for a CureThe band The Cure wear all black, just to be on the safe side.
The good news is that sometimes Komen's lawyers fail, and organizations like "Mush for a Cure" are able to fight back and keep their names. Michael N. Mercanti, a lawyer who represented this small charity operation, said, "They shouldn't be spending money on lawyers when people give their donations to find cures for breast cancer." He's got a point. We have a feeling that a lot fewer people would donate at the supermarket if the cashier said, "Would you like to give 8 cents for some petty bullshit?"