One of the complaints we get here is, "Why are you always trying to ruin movies by nitpicking them?" The answer, of course, is that the goal isn't to "ruin" the movie at all; it's to find new ways to have fun with it that the creator never intended -- kind of like using a hack in a video game to make it start raining whales.
If you ask the right questions, you not only won't ruin your favorite movie, but will find all sorts of fascinating new ways to think about it. Or you could ask these questions, which, yeah, will kind of ruin it for you.
"What Do These Characters Look Like Taking A Shit?"
Marvel Studios
Now, let's be mature here; I'm trying to make a point. In my humble opinion, a character isn't fully fleshed-out if you can't imagine them doing toilet stuff. So all you need to do is pause a movie every time a new character is introduced and really try to imagine them expelling bodily waste. The results can be surprising.
For instance, Yoda. Really try to imagine him taking a piss into the swamp outside his hut, a little grimace of concentration on his face while he tries to aim the stream, maybe using The Force to make his prostate work a little better.
Lucasfilm
"Patience you must have. Fiber to your diet you must add."
Or imagine him back on Coruscant in the Jedi temple, waddling off to one of the restrooms and hopping up on a space toilet. Imagine one of the Jedi doesn't know he's in there and accidentally opens the stall. Yoda scowls, covers up his junk, and demands he close the door.
Now imagine E.T. doing the same, back on his ship. It kind of ruins the character, right? Don't say they don't excrete waste, either -- we see both of them eat and drink; it has to go somewhere. But as characters they're so wise, innocent, and otherworldly that it feels like an insult to imagine them doing something that literally everyone does. That's bullshit. A real creature, that we're supposed to accept exists in that universe, shouldn't blow a hole in our imagination with a simple bowel movement.
Now, imagine Elsa from Frozen, in her Ice Palace.
Walt Disney
Hold it innnnnnnnnnnn, hold it innnnnnnnnnnn!
Does she have to go off and piss in the snow outside? Does she have a huge yellow dome of frozen piss somewhere she just keeps adding to? Or is she so pristine and perfect in the sparkling evening gown she wears around the house that you can't picture any piss scenario? Apply the same logic to the Elves in Lord Of The Rings -- is it hard to imagine Legolas taking a shit in the woods and then burying it after wiping his ass with some leaves or a passing rodent?
In fact, what kind of toilets do they have in Rivendell? Everything in that place looks like a cathedral ...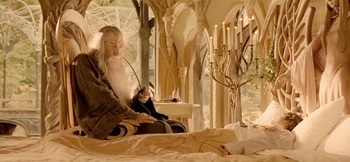 New Line Cinema
Hell, where does Gandalf even dump his pipe ash?
How bad would Frodo have felt if, while a guest there, he clogged the toilet and caused it to back up onto the floor? You know that place wasn't equipped for Hobbit shits. What do Elven shits even look like?
Now imagine shitting in Asgard, from the Thor universe, and imagine every toilet looks exactly like this:
Marvel Studios
Yes, with the honor guard included.
Would you find it hard to go? Speaking of superheroes, what about Superman? He eats and drinks; what's his poop situation?
I'm not joking here -- you'll honestly be surprised at how often movie characters and settings fail the Shit Test. The creatures in the Monsters, Inc. universe don't seem to have assholes, no matter where I freeze-frame the DVDs, but they have the exact same toilets humans do (despite the fact that at least one of them is a giant lizard).
Pixar
And at least one of them is bigger than the stall.
What does Sully do with his tail? Does he get shit on his fur?
What about the LEGO people in the The LEGO Movie? Again -- we see them eat, and we see the main character drink coffee. He's going to have to take a shit like 20 minutes later -- what would come out? I assume it'd be a little round plastic block, but then what happens to it? Can their sewer system break it down?
What about that monster from 300 with swords instead of hands? Do they have a team of guys who help him every time he has to go?
Warner Bros.
Or is that his own blood?
I could go on, but really that just leads us to a larger question ...
"What Do These People Do When They're Not Fighting?"
Warner Bros.
I have a new novel coming up, and I'm telling you right now, this question torments me as a writer (almost as much as the question, "How can I slip references to my upcoming book in a way that seems completely natural?") I try to ask this with every character, and it fucking keeps me up nights. Let's try it on one of my favorite films: There's a moment in The Matrix where it's revealed that Agent Smith's primary motivation is that he hates being assigned to Matrix duty ("It's the smell") and only wants to break the resistance so he can be reassigned.
To do ... what?
He's a sentient piece of software, but he's implying that chasing people around The Matrix in a suit is just a temporary task he's been given due to this specific rebellion that's cropped up. So what was he doing before that didn't involve The Matrix? Do he and the other programs hang out? What do they do for fun? Everything you're imagining (go to the Merovingian's club, kick back at a beach, bang the Woman In The Red Dress) is all human shit from our world, which he hates. Does he have hobbies? Friends? What do they talk about?
General Electric
Does he dream of getting into acting?
That makes me think about Yoda again. He had been in hiding on Dagobah for at least 20 years (the length of Luke's life up to that point). What was he doing all that time? There was no other intelligent life on the planet, as far as we can see. No one to talk to, other than the occasional Jedi ghost. No technology. Maybe he brought a couple of books with him? What does he do for fun? (I know you're now trying to picture Yoda masturbating, but we've moved on from that.) I mean, if it was me I'd spend a lot of time lifting heavy shit with my mind and tossing it around the jungle, flinging swamp monsters off over the horizon, then measuring the distance and trying to beat it. That doesn't seem like his thing, though.
Does Darth Vader still keep up with podracing in his spare time? Does he ever hear a joke so funny he has to bend over with laughter? Are you picturing it? Or do you only think of him existing within the confines of the story's central conflict?
Lucasfilm
Can you imagine him in his special chamber, catching the highlights and taking a long, leisurely deuce?
Now imagine we live in the Transformers universe, and let's say the Decepticons have been defeated once and for all. Try to imagine what the Transformers are doing 10 years later. Imagine a bunch of them just hanging around on the weekend. What do they talk about? Do they fall in love? Can they have sex? Do they listen to music? Make music? What would Optimus Prime look like playing a giant saxophone? When he isn't speaking in inspirational platitudes or shouting battle commands, what is he saying? Imagine him complaining about how much the Red Sox pitching sucks this year, or griping about his aching joints. What's his personality beyond "noble, courageous battle robot"?
You can also ruin almost any horror movie this way. What does the little girl from The Ring do in between murders? Or Freddy Krueger? What are his hobbies? What does he think about? Are there other beings he associates with?
The Weinstein Company
How does Michael Myers celebrate other holidays?
But once you get into horror, you'll then find yourself constantly asking ...