You know that biopic about the famous person who finds success, falls from grace, then comes back and goes out on top? According to movies, that's the basic structure of every celebrity's life. Well, it doesn't always work out that way in reality. For a lot of celebrities, the arc goes: success, fall from grace, then instead of a comeback, a final act of flailing desperation. Here are some of those stories.
MC Hammer's Embarrassing Attempt At Gangsta Rap
Giant Records
In 1994, an increasingly irrelevant MC Hammer knew it was time for a significant change. He had to sell out every stadium concert simply to make payroll for his small army of backup dancers. And after building a huge $30 million mansion, buying 19 thoroughbred racehorses, and generously employing every single resident of Oakland, the rapper's fortune was quickly dwindling.
Future rap legends like Nas, Notorious BIG, and, er, Coolio were dominating the charts, rapping about the realities of America's underserved inner cities. It spoke to the disenfranchised youth, and unintended suburban audiences were eating it up with their licensed Flintstones movie spoons. America wanted hardcore gangsta rappers like Ice Cube and Snoop Dogg -- the kind of artists who were 25 years away from making family-friendly entertainment! Not the kind who were on Saturday morning cartoons just last week.
DIC Entertainment
"Hammerman says: When the police take your parents away, you can always 'get down!'"
And speaking of square, dancing for fried chicken in weirdly racist KFC commercials wasn't paying the bills. So Hammer needed to revamp his image. He dropped the "MC" from his name, becoming simply "Hammer," and released a "gangsta rap" album, The Funky Headhunter. And of course the cover featured him squatting in a prison pose, almost certainly in a warehouse storing landscaping equipment.
Giant Records
"They locked me up for making too many gangsta improvements to my guest house."
The title didn't exactly resonate. The Funky Headhunter sounds less like a rap album and more like the name of a Scooby Doo villain. Then there's the hilariously miscalculated new look, which is best summarized by this one GIF: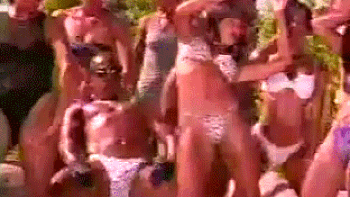 Giant Records
Four of their diaphragms popped during this one take.
That's from Hammer's music video "Pumps And A Bump" -- every rapper back then was legally required to make at least one video about slapping, flopping butts. The lyrics hit all the usual gangsta rap beats: Hammer's a "pimp" who asks us all to "step right up to the girl with the big butt" as if he's both the best and the worst carnival barker ever. Hammer also uses the song to remind us all that "Men Ooooh! Everyone for the rest of your life there's a girl fucking tight." It's almost nonsense, as if it's a secret code only our butts can understand.
After the butt stuff, Hammer launches into "Somethin' For The O.G.'s," the diss track to end all diss tracks -- or at least, end Hammer's career as a disser forever. Dissmaster? Diss-sender? The point is, he calls out seemingly random rappers, like Q-Tip and Redman and others who call him "wack," before namedropping his crew of "hard knuckleheads from the east side." This is a man who obviously spends most of his day in dance choreography, and that's inherently not terrifying, despite the powerful core that nine hours of body wave training gives you.
Rosanne Salvatore/New York Daily News
"The parachute pants are perfect resistance training."
To be fair, it's not unheard of for a rapper to successfully redo his or her image. Hell, Tupac started as a backup dancer for Digital "Seriously, the Humpty Hump guy" Underground. But Mr. Hammer was the parachute-pantsed man rapping about the power of prayer and the legitness of the Addams Family. Millions of dollars and man hours were spent convincing us that is who MC Hammer was. You're a rapper, not a porn producer. You can't get hard by replacing "Addams Family" with "butts."
Johnny Cash Writes About Native Americans While Pretending To Be One
Columbia Records
Johnny Cash was every bit as badass as his reputation suggests, and you either know that from your good taste in music or because you saw the movie about him. But while Walk The Line covers Cash's drug addiction and his live concert at San Quentin prison, it strangely left out some of the crazier parts of his life.
For instance, there's his trips to the desert to shoot his guns in "amphetamine communions with the cowboy ghosts." Forget Johnny Cash; we'd watch a movie about that starring anybody. And that famous prison concert? Prior to performing, Johnny did not in fact sober up, as the movie suggested. Instead, he filled himself with enough coke to rattle the teeth out of an elephant.
Hulton Archive/Hulton Archive/Getty Images
"I'm already in a prison. What are they gonna do? Prison me more?"
But the strangest thing the movie left out was the time he started pretending to be a goddamn Indian. In 1964, an increasingly blitzed off his tits yet socially conscious Cash released Bitter Tears: Ballads Of The American Indian, a protest album about the plight of Native Americans. The topic hit close to home for Cash, as he was part Native. The cover featured him wearing a leather belt around his head, and the sleeve featured the text: "Johnny is justified in the stand he takes [as he] is proud of his Cherokee blood."
Columbia Records
"Technically, most of my blood is methamphetamine, but you know what I mean."
The only thing is that Cash was exactly zero percent Native American. As he told Penthouse years later, "The higher I got, the more Indian blood I thought I had in me." Since that's a side effect unique to him, it's safe to say that no one has ever been as high as Johnny Cash was.
Because of its subject matter, Bitter Tears was incredibly controversial, and many country music fans (who of course are normally very tolerant of minorities) chose to boycott it. Record sales plummeted, concerts were cancelled, and Cash even took out a full-page newspaper ad that basically yelled at radio stations for ignoring the record. I mean, if you don't buy a fake Native American's record, what does that say about you?
Jim Marshall
Fuck you, that's what.
But not everyone ignored it. The KKK were so incensed by the album that they actually tried to kidnap Cash. He responded by suing them for $25 million. So we have a Cherokee on the warpath over the white man ignoring his music, who is being pursued by the KKK, who find out he was white the whole time and then get sued by him? How was that not the entire plot of Walk The Line?