"Hammerman says: When the police take your parents away, you can always 'get down!'"
And speaking of square, dancing for fried chicken in weirdly racist KFC commercials wasn't paying the bills. So Hammer needed to revamp his image. He dropped the "MC" from his name, becoming simply "Hammer," and released a "gangsta rap" album, The Funky Headhunter. And of course the cover featured him squatting in a prison pose, almost certainly in a warehouse storing landscaping equipment.
Giant Records
"They locked me up for making too many gangsta improvements to my guest house."
The title didn't exactly resonate. The Funky Headhunter sounds less like a rap album and more like the name of a Scooby Doo villain. Then there's the hilariously miscalculated new look, which is best summarized by this one GIF: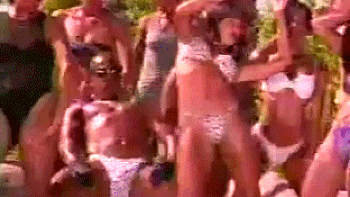 Giant Records