"They locked me up for making too many gangsta improvements to my guest house."
The title didn't exactly resonate. The Funky Headhunter sounds less like a rap album and more like the name of a Scooby Doo villain. Then there's the hilariously miscalculated new look, which is best summarized by this one GIF: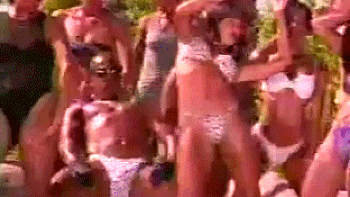 Giant Records
Four of their diaphragms popped during this one take.
That's from Hammer's music video "Pumps And A Bump" -- every rapper back then was legally required to make at least one video about slapping, flopping butts. The lyrics hit all the usual gangsta rap beats: Hammer's a "pimp" who asks us all to "step right up to the girl with the big butt" as if he's both the best and the worst carnival barker ever. Hammer also uses the song to remind us all that "Men Ooooh! Everyone for the rest of your life there's a girl fucking tight." It's almost nonsense, as if it's a secret code only our butts can understand.
After the butt stuff, Hammer launches into "Somethin' For The O.G.'s," the diss track to end all diss tracks -- or at least, end Hammer's career as a disser forever. Dissmaster? Diss-sender? The point is, he calls out seemingly random rappers, like Q-Tip and Redman and others who call him "wack," before namedropping his crew of "hard knuckleheads from the east side." This is a man who obviously spends most of his day in dance choreography, and that's inherently not terrifying, despite the powerful core that nine hours of body wave training gives you.
Rosanne Salvatore/New York Daily News
"The parachute pants are perfect resistance training."
To be fair, it's not unheard of for a rapper to successfully redo his or her image. Hell, Tupac started as a backup dancer for Digital "Seriously, the Humpty Hump guy" Underground. But Mr. Hammer was the parachute-pantsed man rapping about the power of prayer and the legitness of the Addams Family. Millions of dollars and man hours were spent convincing us that is who MC Hammer was. You're a rapper, not a porn producer. You can't get hard by replacing "Addams Family" with "butts."