For most of us, Disney movies were fun distractions our parents plunked us in front of so they could do the laundry without screaming homunculi getting in their way. But for a select group of people, Disney characters played a crucial role in the development of their sexuality. Like a hot babysitter who was also a giant mouse.
And look, we're not going to judge how you live and achieve orgasm, but we can't help but point out that the erotic Disney fan art community has some extremely, uh, colorful trends going on -- yes, even for an erotic fan art community.
NOTE: ALL SOURCE LINKS IN THIS ARTICLE ARE NOT SAFE FOR ANYWHERE.
The Bad Guy From

The Hunchback Of Notre Dame

Is A Gentle Lover
Walt Disney
Remember Frollo? The mother-murdering, terrible-stepfathering, and all-around douchenozzle villain of The Hunchback Of Notre Dame? Well, some artists saw that and said, "Now there's a guy who's probably a sweet, supple, and generous sex-maker." If you're having trouble imagining that, then don't worry, because they didn't.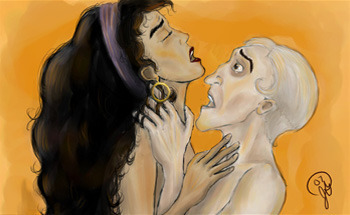 orchisse.deviantart.com
"Sanctuary! Sanctuary!" -- Your Eyes
At first, this seem like your standard pairing between a sexually-repressed religious fanatic and a free-spirited Romani girl half his age ...
elenatria.deviantart.com
In this version of the movie, there's no meddling hunchback, and "Quasimodo" is his nickname for his erection.
... but they take on creepy overtones when you remember that in the movie, Frollo develops an obsession with Esmerelda and orders her execution when she rejects his advances. Presumably, these drawings are set in a gross alternate ending in which Esmeralda decides that taking some old man dong is a preferable fate to being burned alive.
deviantart.com
"Heads up, you'll still feel a burning sensation later."
The Rescuers Have Fucked Pretty Much Everyone
Walt Disney
Seeing as how they feature anthropomorphic animals, The Rescuers and The Rescuers Down Under were always going to attract a certain section of fandom. Throw in the endless sexual puns made possible by the second movie's title, and erotica was inevitable -- despite the fact that the average person's memory of these films boils down to "Is that the one where John Candy's a bird?" Even then, we confess that we're taken aback by the depths of the Rescuers' promiscuity.
timon-berkowitz.deviantart.com
The Down-low Under. See? Endless.
Ah, Jake and Timon from The Lion King together at last! We have to question whether the dimensions here are accurate, though. Also, note that Jake's wearing a diaper, for reasons we don't want to explore. Moving on, here's Frollo again, this time macking on fellow obscure villain Percival C. McLeach.
rinkusu001.deviantart.com
"We started arguing about who had the silliest name, and one thing led to another."
Meanwhile, poor Bianca finds herself stripped down to her underoos and kidnapped alongside fan favorite (read: commonly masturbated to) Gadget Hackwrench from Chip 'N Dale Rescue Rangers.
deviantart.com

By now, you're probably thinking the same thing we are: "Wait, which one was Bianca again? The Eastern European one? What were her skills?" One was role play, obviously.
deviantart.com
Even the characters are like, "Seriously, what the fuck is with the diapers?"
We're with you, Bernard. Apparently, the Rescuers' globetrotting adventures led them to plenty of sexual escapades as well ... which kinda makes sense when you consider that they're a bunch of furry James Bonds and Indiana Joneses, and those guys are huge sluts.