Natural selection is much like the automotive industry. For every intimidating shark ('60s Corvette) or sleek jaguar (um, Jaguar) that you see stalking your city's highways, there's a duck-billed platypus (a Volkswagen thing with a pair of truck nuts slapped on its back bumper) loping along behind it. For proof that Mother Nature goes on the occasional Jagermeister-and-Robitussin bender while designing next year's animal models, look no further than ...
The Turtle Frog Looks Like ... A Turtle Frog
M. Anstis/Western Australian Museum
Though it resembles something you'd stumble across while nosing through your pet turtle's shameful Internet browsing history, the creature you're looking at is in fact a frog. This Western Australian croaker is about as close to a naked turtle as a frog can get, though, which probably explains why it's called the turtle frog. It looks unfinished, in a "failed prototype from Alien: Resurrection" kind of way. It's almost as if nature was sitting on the couch with some friends and a bong one day, coming up with, like, the greatest ideas ever ... but then utterly failing to see a single one of them through.
B. Maryan/Western Australian Museum
It's like God created the foreskin and then got distracted by His own uncontrollable laughter.
But even though the photos make them look like a big ol' plop of useless, they're quite tiny (they only grow to about two inches long), and they make do with what they've got, using their stubby little arms to dig into the ground and bust into termite mounds. The only time you're likely to see one is right after it rains, since they're usually hiding from your judgmental stare underground. After it rains is also when they mate (good luck getting that image out of your head). And their babies don't undergo a tadpole stage -- they squirt out of their eggs looking like aborted fetuses, and they keep right on looking that way for the rest of their ludicrous little lives. Catch them at certain angles, however, and they're damn nigh photogenic:
Auscape/UIG/Universal Images Group/Getty Images
It's a face only a mother (or a Pokemon fan) could love.
The Clam With A Full-Blown Rave In Its Mouth
Lakshmi Sawitri/Flickr
Ctenoides ales has several hip nicknames, and not just because "Ctenoides ales" is goddamn impossible to pronounce. It's the only bivalve known to have the ability to create a mesmerizing strobe light effect with its soft tissue, earning it monikers such as the disco clam, the electric flame scallop, and the electric clam, which sounds like something you'd order out of an adult catalog. We're going to go ahead and give it a new one right now: the THOR CLAM.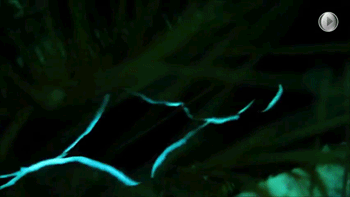 UC Berkeley Campus Life/YouTube
You can only eat one using Mjolnir.
Scientists originally assumed that the THOR CLAM's rave impression was some type of mating display, but recent studies have revealed that it's more likely used to attract prey, and can even ward off predators. Because who the hell wants to wrap their lips around a freaking undersea lightning bolt? And in case the light show isn't adequate, the THOR CLAM also squirts sulfuric acid from its fringe-like tentacles.
Animal Wire/YouTube
UC Berkeley Campus Life/YouTube
"Keep testing me. That's not the only thing I can shoot."
How scientists tested the THOR CLAM's ability to turn away predators is quite possibly the weirdest thing you'll see on the Internet today: Researchers sicced a mantis shrimp (a crazy critter in its own right) on our friendly neighborhood flashing clam. This caused the clam to send out its freaky acid-tentacles and kick off its light show, which straight-up hypnotized the shrimp. Then, once the shrimp recovered, it tried to fuck the clam. And we don't mean the shrimp said "fuck it" and moved on to easier prey -- we mean it literally tried to fuck the clam.
Apparently the "disco clam" has more in common with a nightclub than anyone realized.