Ctenoides ales has several hip nicknames, and not just because "Ctenoides ales" is goddamn impossible to pronounce. It's the only bivalve known to have the ability to create a mesmerizing strobe light effect with its soft tissue, earning it monikers such as the disco clam, the electric flame scallop, and the electric clam, which sounds like something you'd order out of an adult catalog. We're going to go ahead and give it a new one right now: the THOR CLAM.
UC Berkeley Campus Life/YouTube
You can only eat one using Mjolnir.
Scientists originally assumed that the THOR CLAM's rave impression was some type of mating display, but recent studies have revealed that it's more likely used to attract prey, and can even ward off predators. Because who the hell wants to wrap their lips around a freaking undersea lightning bolt? And in case the light show isn't adequate, the THOR CLAM also squirts sulfuric acid from its fringe-like tentacles.
Animal Wire/YouTube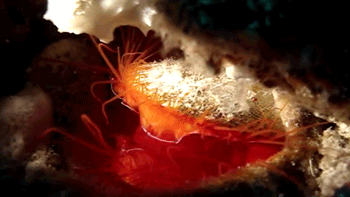 UC Berkeley Campus Life/YouTube
"Keep testing me. That's not the only thing I can shoot."