We want to respect other cultures and their unique tastes in food and drink. But sometimes, they're simply wrong. There are soft drinks on the market around the globe that are clearly unfit for human consumption and wrong on a deeply moral level.
Think we're over reacting? Then you've never heard of:
Also Known As:
If you've ever gotten the urge to stir some yogurt into your Pepsi, well, you're lucky to be alive because we're pretty sure that shit will make your stomach explode. Or maybe just turn into a super-powerful acid that eats you from the inside out (we aren't chemists). At best you'll wind up giving everyone the impression that you've ejaculated into your Pepsi.
So who would think to combine those two things and sell them commercially? Japan. Pepsi White emerged there last October just in time for their line of winter products. Because nothing screams "winter" like yogurt. Because it's white. Also, it's the first Pepsi beverage that might curdle on a hot summer day.
Only in Japan could Ice Cucumber flavor be the second weirdest Pepsi product on the market.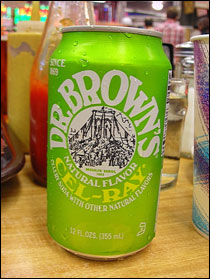 Also Known As:
Not just some kooky novelty beverage, Dr. Brown's Cel-Ray is a drink extracted from celery seeds that has been around since the 18-freaking-60s. We'd imagine the ads featured guys cracking open a cold can and rubbing it across their sweaty forehead after leaving the Civil War battlefield.
Since then, Cel-Ray has became a common item in the city of New York, and in Jewish delicatessens here and there, having totally captured the market in celery-flavored soda that, for some strange reason, no other beverage maker has even bothered to enter in a century and a half.