Brainwashing doesn't take any sci-fi gadgetry or Manchurian Candidate hypnotism bullshit. There are all sorts of tried-and-true techniques that anyone can use to bypass the thinking part of your brain and flip a switch deep inside that says "OBEY."
Now I know what you're thinking. "Sure, just make an ad with some big ol' titties on there! That'll convince people!"
While that's certainly true ...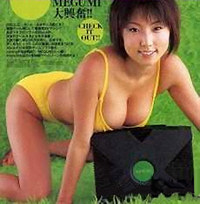 ... they've got a whole arsenal of manipulation techniques that go way beyond even the most effective of titties. Techniques like ...
Every cult leader, drill sergeant, self-help guru and politician knows that if you want to quiet all of those pesky doubting thoughts in a crowd, get them to chant a repetitive phrase or slogan. Those are referred to as thought-stopping techniques, because for better or worse, they do exactly that.
Sounds like:
"Say it with me now, folks!"
"FOUR MORE YEARS! FOUR MORE YEARS! FOUR MORE YEARS!"
"One, two, three, four, I, Love, The Marine, Corps. One, two..."
Why It Works:
The "Analytical" part of your brain and the "Repetitive Task" part tend to operate in separate rooms. But you didn't need an expert to tell you that. You know you can't solve a complex logic puzzle if I force you to scream the chorus to that Chumbawamba song over and over again while you're doing it. Try it.
Meditation works the same way, with chants or mantras meant to "calm the mind." Shutting down those nagging voices in the head is helpful for stressed-out individuals, but even more helpful to a guy who wants to shut down an audience full of nagging internal voices suggesting that what he's saying might be retarded.
Recently Seen:
At the political conventions, notice how they trained the audiences to fill the gaps between applause lines with chants ("U-S-A! U-S-A! U-S-A!") rather than, say, pensive silence to carefully consider what the speaker has just said.
Also, those of you who've worked at Wal-Mart are familiar with the "Wal-Mart Cheer" that begins every shift:
They used to sacrifice a goat at the end, but PETA put a stop to it.
Slipping Bullshit Into Your Subconscious
The rise of the internet news portal has given birth to a whole new, sly technique of bullshit insertion. What They (and from here on, "They" with a capital T means anyone who draws a paycheck by manipulating your opinion) have figured out is that most of you don't read the stories, you just browse the headlines. And there's a way to exploit that, based on how the brain stores memories.
The Drudge Report lives off this. A single anonymous source will report to some news blog that, say, Senator Smith runs a secret gay bordello in New Orleans. Drudge will run the headline:
NEW QUESTIONS ABOUT SMITH'S SECRET GAY BORDELLO
Or perhaps there'll just be a question mark on the end:
SMITH: SECRET GAY BORDELLO ASS MASTER?
It doesn't matter that the headline merely involves "questions" about the bordello. The idea has been planted, and two months later when somebody mentions Senator Smith around the water cooler you'll say, "The gay bordello guy, right?"

Sounds like:
"WHAT IS OBAMA'S CONNECTION TO LEFT-WING EXTREMISTS?"
"TOYOTA PRIUS - MORE WASTEFUL THAN A HUMMER?"
"OFFICIAL SAYS WTC COLLAPSE 'UNEXPLAINED'"
Why It Works:
They call it "Source Amnesia." For instance, you know what a wolverine is, but probably don't remember exactly how you learned that piece of information. The brain has limited storage, so it stores just the important nugget (that a wolverine is a small, ferocious animal) but usually discards the trivial context, such as when and where you learned about it (the movie Red Dawn, probably).
In the era of the web and information overload, that's a mechanism They can exploit very easily. What They have found is that a piece of information--say, an ugly rumor about a politician--can be presented with all sorts of qualifiers (a question mark, attribution to a shitty source, the word "unconfirmed") but often the brain will only remember the ugly rumor and completely forget the qualifier.
And get this: it happens even if the headline we read was specifically about the rumor being untrue.
You'll see this daily, in every election cycle. The entire point of putting a shaky rumor into the press is to force your opponent to deny it. Why? Because They know that the denial works just as well as the accusation. Thanks to Source Amnesia, for millions of people all three of these ...
SMITH DENIES GAY BORDELLO RUMORS
SMITH REFUSES COMMENT ON GAY BORDELLO RUMORS
SMITH ADMITS GAY COCK BORDELLO
... register as the exact same headline.
Recently Seen:
During the presidential primaries, Drudge ran a huge photo of Barack Obama wearing a turban. Under it was an inflammatory headline about how disgusting it was that Clinton staffers were circulating such a picture.
But a huge number of people who saw it only remembered the picture (months later, 13% of voters still thought he was a muslim). That's the idea.