not
go hand-in-hand with being a qualified leader of the greatest country on earth. Further, America currently uses 20 million barrels of oil a day, most of which probably goes to fuel the shockingly powerful mini-jets attached to Super President's belt that allow him to fly.
Why It's s****y
It's honestly one of the most poorly-written shows I've ever seen, even by crappy superhero cartoon standards. And I'm not cynical guy. Not only do I believe that it's possible to gain spider powers after getting bitten by a radioactive spider, I actively pursue this dream by regularly hanging around nuclear testing facilities covered in spiders. I desperately want superheroes to be real and am prepared to buy whatever garbage backstory anyone wants to come up with, but "He was caught up in a friggin' storm or whatever" just doesn't cut it for me. And, maybe I'm nitpicking, but I think it's important that we have a president who's at least
slightly
creative. If you're the president, but you want to keep your identity a secret, is naming yourself "Super President" really the best way to go?
Really
? Aren't you kind of
asking
to be discovered? If Norcross had his way, the streets would be protected by BillionaireMan, The Amazing Nerdy College Student and the Caped-Clark-Kent. Also, Norcross' Energy Plan, ("Put it all in my tiny belt-rockets!"), is, at best, shaky.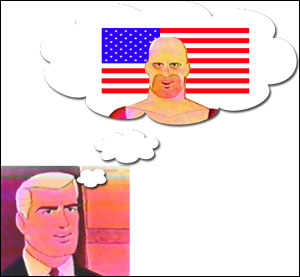 Why It's Actually Brilliant
Norcross is the President and, while he keeps America safe from monsters of various sizes, he does so at the expense of the trust of the American people. Every night, when he puts his little costume on, Norcross is betraying the trust of those who elected him, and he doesn't even pretend to give a s**t about it. He fights crime in a way that America, on principle, does not condone. Norcross/Super President is concerned first and foremost with keeping his nation stable. Morality, Honesty and Principle are all afterthoughts; America's ends justify Super President's means. James Norcross has found a way to be both loved