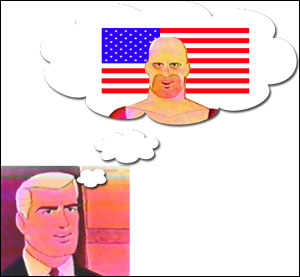 Why It's Actually Brilliant
Norcross is the President and, while he keeps America safe from monsters of various sizes, he does so at the expense of the trust of the American people. Every night, when he puts his little costume on, Norcross is betraying the trust of those who elected him, and he doesn't even pretend to give a shit about it. He fights crime in a way that America, on principle, does not condone. Norcross/Super President is concerned first and foremost with keeping his nation stable. Morality, Honesty and Principle are all afterthoughts; America's ends justify Super President's means. James Norcross has found a way to be both loved
and
feared. He is kind to his subjects, yet merciless under his mask. In this way, Norcross is the perfect manifestation of the ideal leader as described in Machiavelli's
The Prince.
After all, it was Machiavelli who said "there are two means of fighting: one according to the laws, the other with force; the first way is proper to man, the second to beasts; but because the first, in many cases, is not sufficient, it becomes necessary to have recourse to the second," and no one can deny that Super President is willing and able to resort to laws of the beasts when the laws proper to man simply won't cut it. Further, was it not Machiavelli who
also
said that "a beast with easy access to a belt with tiny rockets will ultimately defeat all beasts that rise up against it and should, when a situation calls for it, turn into ozone"? I'm almost positive it was. [subtitle]X [X] Real-Life Batman Villains[/subtitle]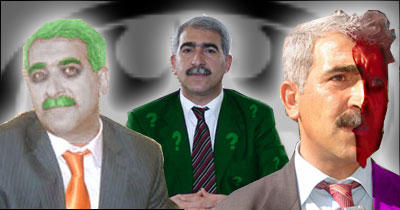 Now, I know you probably think that we already did this list here at Cracked which, given our obsession with Batman, isn't an unreasonable conclusion to jump to. But I'll have you know, we did a
Lame Villains Article,
(that was very Batman Villain-heavy),
and
we did a
Real-Life Villains Article
, but not
once
have we done an article depicting (real-life) people who are attempting to destroy the (fictional) Batman. Until, you know...right now.
The Mayor of Batman
This was a story that was so wonderful and retarded that I can't honestly believe the internet only wasted, like, a day making fun of it. A while back, Hüseyin Kalkan, the mayor of a town called Batman, in Turkey, (popular for its oil and its absurd amount of female, honor-related suicides that occur each year),
actually attempted to sue Christopher Nolan,
the director of
The Dark Knight
on the grounds that he was, I guess, trying to capitalize on the popularity of the town. Like, all of the billions of people who saw
The Dark Knight
only did so because they thought they were seeing a riveting documentary about an oil-producing province in Dipshit, Turkey. I mean, that's why
I
went to go see
Dark Knight
. I heard it was about Batman so I bought a ticket, because I'm curious about their high levels of both unemployment and female-suicide, and I didn't check out any of the trailers or articles about the movie, because I'm homeless and retarded. You can
imagine
the questions running through my mind as I watched this strange, fictional account of costumed vigilantes: "Why is there such little mention of oil?" "Why aren't they talking about the River Batman? It's central to the province's economy, which is, by the way, plummeting. " "Hey, a woman on the screen. That's odd. Why isn't she taking her own life in accordance with her complex and antiquated moral code?" "How did the Joker manage to sneak aboard