They also found multiple instances of NBC reporting on Trump without disclosing their financial relationship, which is highly unethical. This was especially true of the few articles that covered Trump's businesses in a negative fashion. You can probably chalk that up to the fact that they had a vested interest in presenting Trump as one of the greatest business minds of all time. The show he starred in hinged on that reputation, and it's one NBC pushed tirelessly while promoting The Apprentice. In one especially over-the-top example, during a 2005 appearance on Today, Trump walked out on a red carpet as "The Imperial March" from Star Wars blared in the background ...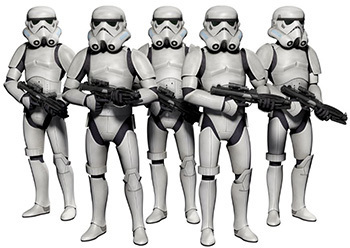 starwars.wikia.com
What were we saying about comparisons to Nazis?
... and Al Roker introduced him as "the galactic king of the universe, Donald Trump." So you'll understand why that same Media Research Center study referred to NBC's coverage of Trump as bordering on "cult-like" on several occasions. Not that the relationship was a one-way street or anything. For all intents and purposes, The Apprentice was mostly a really long commercial for the various entities and properties held by the Trump empire. He made them a lot of money, they made him a television star (and also a lot of money). You could even argue that he's been the biggest star on that network for a lot of years now. It's not like NBC has been killing it since the turn of the millennium. They've had a few amazing and memorable shows, but even then, people didn't always bother watching them.
Wikipedia
Come back, Tracy Morgan.
Trump has been one of the most consistently present personalities at NBC for a long time now. At least, he was until the network very publicly severed their ties with him after he called Mexican immigrants rapists early in his campaign. For his part, The Donald claims they're just mad because they wanted two more season of The Apprentice and he wanted to run for office instead. Either way, by all public appearances, the relationship between Trump and NBC ended that day. But did it?