Barbie Lice Control allows players to experience all the sparkly fun of gradually separating Barbie's hair into small sections, running a small comb through those sections, and then using a tissue to wipe away the eggs and dead lice that have accumulated in it. I can't think of a better way to spend a slow Saturday morning, except maybe washing diarrhea out of my cat's fur, but I'm not sure that would have the same excitement level. After all, Barbie Lice Control also gives us a microscope scene, where you can zoom in and see the individual lice crawling around on Barbie's scalp.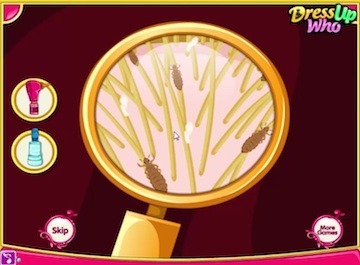 Via DressUpWho
At least I hope it's her scalp.
It's undeniably exciting, but maybe that's not enough for the infestation-obsessed small child in your life. If that's the case, there's also ...