The media gleefully labeled this new fame breed micro-celebrities, and for the longest time you could only use the term "Internet famous" together with air quotes and an embarrassed chuckle, assuming you didn't want to get instinctively body tackled by everyone in the room. This was the Wild West of online fame, and it was extremely rare that someone was able to capitalize on their notoriety. There was the occasional Maddox, Tucker Max, and, of course, Seanbaby, but they were few and far between. Hell, even those guys only made it because they were ready to work their asses off.
Compare that situation to today, when Grumpy Cat -- an entity that has only been around since late 2012 -- has an estimated net worth of $1 million, and it's easy to see why modern online celebrity is a very different beast.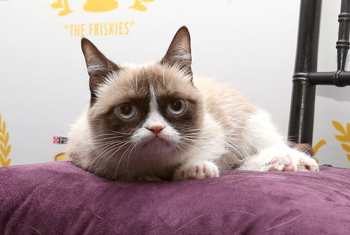 Mike Lawrie/Getty Images Entertainment/Getty Images
Namely, the kind of beast that scores lucrative endorsement deals with Nestle.
The advent of YouTube and social networking has made the entire online world a potential promotion machine, and Tardar Sauce is far from the only Publicly Recognized Internet Thing to capitalize on her memetic fame out in the real world. In fact, it looks like the value of online celebrity is increasing. Take PSY, a K-pop star who had practically zero chance of breaking out internationally, mainly due to the fact that he is a fucking K-pop star. But add one catchy tune, a goofy video, one Internet, stir -- and watch this relatively niche performer turn into a worldwide phenomenon and multimillionaire.