Letterkenny: 15 Behind-The-Scenes Facts
Few shows have taken the comedy world by storm like Canada's overnight smash hit Letterkenny. Honestly, how many times have you seen the first episode, because you constantly show your friends? Lets look at some of the lesser known facts of this rapid fire, small town, one of a kind gem.
The show started as a web series.
Like Broad City but, ya know… Canadian.
In 2013, Jared Keeso and Nathan Daniels teamed up to create a web series called Letterkenny Problems. The show focused on the two talking to each other about their small town lives. The show eventually was picked up by Crave and Letterkenny became its first original series in 2015.
Based On Listowel, Ontario.
The show is based on Jared Keeso's hometown of Listowel. Located in the middle of southern Ontario, Listowel has a population of 7,500 and the community centers around hockey and beer. 
If you can ensure cell reception, this place sounds like paradise.
Pulls from Trailer Park Boys
Has Letterkenny ever reminded you of fellow Canadian cult comedy, Trailer Park Boys? Well.. that was the goal! Keeso has said "Trailer Park Boys is one of my favorite shows of all time. I love that world. It makes me feel good. The goal with Letterkenny has always been to create that good feeling for our audience by stepping into our world."
Filmed In Sudbury, Ontario
Keeso wanted to keep the small town feeling of his hometown for the show, but still needed a town with enough locations to film at. Keeso found this in Sudbury, Ontario. Four hours north of Toronto, Sudbury has been the filming location for Letterkenny's entire run and was also featured in the first live-action X-Men movie.
Jacob Tierney Directs
Jacob Tierney who plays Pastor Glen on the show, is also the series co-writer and main director. Jacob Tierney has directed 67 out of the current 68 episodes. 
A triple threat,. He can act, direct, and preach.
K. Trevor Wilson's Stand up
Americans may not know that K. Trevor Wilson, who portrays the large but loveable Squirrly Dan, is actually an accomplished stand up comic. He's performed at Just For Laughs, Jimmy Kimmel and his comedy album Sorry! (A Canadian Album) reached the top of the iTunes comedy charts.
Trailer Park Boys' writer Jonathan Torrens contributes.
While Jared Keeso and Jacob Tierney usually write the episodes themselves, sometimes they will delegate those duties to guest writers. This includes former Trailer Park Boys writer and talk show host Jonathan Torrens. He wrote some of the most successful episodes including "Dyck's Slip Out", "Les Hiques", "A Great Day For Thunder Bay", and season 5 finale "Bock Et Biche."
L.A. was not ready for Jared Keeso
Jared Keeso moved to L.A. to pursue acting and writing for a short period in his youth. Keeso said "Nothing happened. I couldn't make anything happen. Young actors get a lot of pressure to go to L.A. because the most opportunity is there. Though that is true, humans must first decide where they are happy. I am happy in Canada."
Going from a small town to L.A. is the equivalent of dropping a goldfish in the ocean.
Tyler Johnston has been nominated for three Canadian Screen Awards
Tyler Johnston who plays Stewart, the drugged out goth in Letterkenny is actually an accomplished Canadian actor. He has been nominated for three Canadian Screen Awards in 2013 and 2014 for his roles on The Phantoms and Less Than Kind.
To know Stewart isn't based on himself does help me sleep at night.
Dylan Playfair is the son of a former NHL player.
Dylan Playfair plays Reilly the hockey bro on Letterkenny, but it's actually not that far off from his real life. His father is Jim Playfair, a former NHL player who was on the Edmonton Oilers and Chicago Blackhawks. 
Doesn't everybody's dad in Canada play for the NHL? 
Puppers Lager
The Creators of Letterkenny teamed up with Stack Brewery to create Puppers Lager, the official beer of Letterkenny. You can see cans of it on the show, and the brewery where its made is located right in Sudbury!
"We're having a Letterkenny marathon at my place. Picked up a keg of Puppers."
Jared Keeso Wanted to play in the NHL.
Jared Keeso wasn't always keen on writing and acting. He actually had hoped to become a professional hockey player and play for the NHL. His dad eventually convinced him to consider a new career path.
"I know it's your dream, Jared., but let's pick something a little less stereotypical." - Jared's Dad, probably.
Letterkenny Live On Tour
Letterkenny has hit the road! The cast and creators have compiled their best jokes, stand up, and sketches to create a live tour. The original 2020 tour was largely cancelled due to the pandemic, but the show is back up and running and touring through 2022.
Grab your tickets before they realize what America is!
Features Canadian music
Jared Keeso takes a lot of time and care to pick the best songs for Letterkenny and likes to showcase Canadian artists. Some songs include including "Okay Okay" by Girlfriend Material, "Pressure" by Milk & Bone, "F*ck The Pain Away" by Peaches, "Fineshrine" by Purity Ring, "Un Musicien Parmi Tant D'Autres" by Harmonium, and several others. According to Jacob Tierny "Jared loves to pick songs. He basically has just been making a mixtape this whole time."
Letterkenny requires a lot of jokes.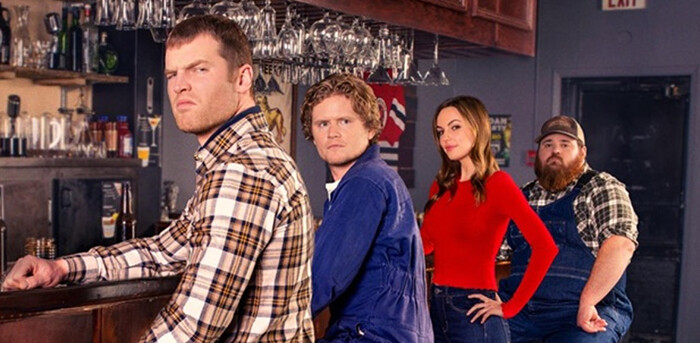 While the Letterkenny writers don't have an actual writer's room, Writer-director Jacob Tierney told Entertainment Weekly, "Often, we'll give writers assignments like, "Come up with 400 jokes about the following topic. We're looking for quantity here." 
That explains…a lot. Letterkenny is like getting shot in the face with a machine gun of jokes.
For exclusive ComedyNerd content and more, subscribe to our spiffy newsletter:
Top Image: New Metric Media