Make Your Home Less Dark With These Lamps
This piece was written by the Cracked Shop to tell you about products that are being sold there.
If you're living in either literal or figurative darkness, might we suggest a lamp? But not just any lamp. Don't settle for the same sad, cheap, rose gold desk lamp from Target that everyone else has, because we've rounded up a series of some of the coolest lamps on the web that will light up both your home and your life.
E.P. Eco-Friendly LED Light Bulb
MSRP: $29
Kill two birds with one stone with this lamp that not only dispenses light but also functions a unique work of abstract art. Each bulb is individually handcrafted with eco-friendly, drop-resistant resin that's never hot to the touch despite looking like wicked flames.
E.P. Eco-Friendly LED Light Bulb + Metal Base
MSRP: $69
Another offering from E.P. Lights, this eco-friendly artistic statement is filled with a swirling blue design that might just suck you in. It's even got a little metal base to look like a real light bulb.
E.P. Eco Friendly LED Desk Lamp - Ice
MSRP: $79
Say what?! We're not done with E.P. Lights?! You know we're not! This one, called Ice, looks like it could easily pass as some kind of corporate trophy, so you can also try to impress your parents for once.
6-Piece Touch Sensitive Modular Wall Lighting
MSRP: $75
Capture a modern lighting aesthetic with this modular wall lighting. Each set has six LED tiles activated by touch or remote control that you can set up in any design you want, allowing you to change colors, adjust brightness, and set different dynamic modes. It'll illuminate your cave and entertain you for hours.
MSRP: $129
This coil-y lamp is perfect for those late nights working or gaming because you can customize it with 358 lighting effects and 16 million colors. It's perfect to adjust to your mood, so you can rave it up in good times or really wallow in it when things are going bad.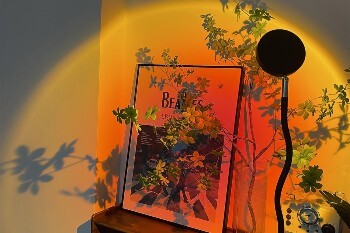 MSRP: $199
If you're into the whole "lighting as art" thing, you'll love this Shadow Lamp Color Projector. It integrates a high-power LED and sophisticated optical system that perfectly projects colors and shades. Get metaphysical with your lighting, yo.
Lamp Depot Minimalist LED Corner Floor Lamp
MSRP: $149
It might just look like a little rod in the corner of your room, but this ingenious minimalist light shines in more than 16 million colors and 300 multi-color effects. Just use the companion app to customize your lighting.
MSRP: $299
Get your literal reading rainbow on with this modern curve lamp. It kinda looks like a giant claw about to swoop down and rip out your guts, so maybe don't put it over your bed like these people do, or maybe put it over the bed of an enemy.
Having this lamp is like the next best thing to being a wizard. Integrated with Amazon Alexa, Echo, or Google Home, you can turn it on and set it to your preferred brightness with your voice. It also has a music mode that changes the lighting automatically with the music you play for your very own laser light show (mood-altering substances not included).
Prices subject to change.
Scroll down for the next article