The employee, a young man named Andrew Farrell, did his best to ignore Mr. Cent as he pointed his phone at him and lamented how "crazy" the younger generation is. He wondered aloud to his Instagram followers, "What kind of shit you think he took before he got to work today?" Sadly, this was the sort of abuse that Mr. Farrell had become accustomed to over the years. Because Mr. Farrell is not a drug addict -- he's autistic. Yes, 50 Cent was harassing and publicly humiliating a stranger because of a developmental disorder, not a drug habit.
Before our president made mocking the disabled a partisan issue, everyone agreed this was terrible. Fans were outraged, and liquor stores threatened to stop selling the faded rap star's "Effen Vodka" brand of booze.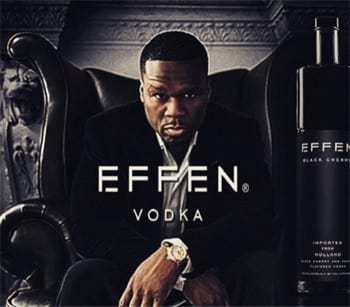 Effen Vodka"Effen" is, of course, a Dutch children's game about number guessing. Wait, unless 50 Cent meant it like "Fuckin' Vodka"? Oh 50, that's naughty!
As uniquely awful as this seems, it wasn't the first time Jackson did something like this. Or even the second. A few years before, he'd landed in hot water after telling someone on Twitter "Just saw your picture fool you look autistic." He ended another social media discussion by saying, "I don't want no special ed kids on my timeline follow some body else." It's all very disappointing when someone unfairly derides another's cognitive differences. Especially when that someone is the sort of person who claims bankruptcy while simultaneously posting photos of himself wallowing on a Scrooge-McDuck-sized pile of fake money. Maybe next time, try renting a conscience instead of a Rolex and a pile of money, Mr. Cent.