It's unclear why Harvey chose to smuggle those guns this way instead of just renting a nondescript minivan and driving them up to NYC in one trip, but the fact remains that if you can pass a cursory background check, it is shockingly easy to get weapons onto a plane. And this is on top of the growing number of other assholes trying to sneak guns into airports, as if brandishing a weapon got you a discount on overpriced coffee and week-old croissants.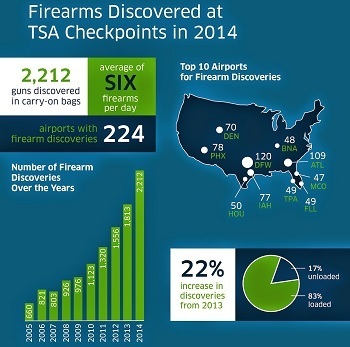 Transportation Security Administration
We say "assholes" because we assume most of these were found in sphincters.
Airports like Atlanta's Hartsfield-Jackson International are reluctant to mandate daily screenings for their thousands of employees, because, they say, it would bog down the security lines (never mind that Orlando and Miami airports both do it and that a quarter-million passengers go through the Atlanta airport every day). But hey, at least the TSA's background checks are pretty solid. It's not like we've ever let one or 73 possible terrorists slip through just because they passed it, right? Uh, right?
Department Of Homeland Security
This is like hiring a pack of leopards to watch over your bird shop.