Realizing that the search for his wife has all been for naught and he's been a puppet of a freaking dog all this time, James falls to his knees for the small comfort of said dog licking his face.

"Damn you, evil ... haha ... evil beast ... aw, I can't stay mad at you."
Then the credits roll to circusy organ music, accompanied by yapping dog sounds and random pictures. And we mean random.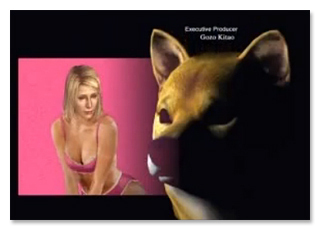 This is what a brain stroke looks like.
By the way, this isn't the last we see of the dog -- in Silent Hill: Origins, one of the endings has an alien beaming down to help the protagonist get his missing truck back. Wanna guess who's with him?

Now we know why the fans hated the movie so much: No dog ending.