... a dog in a headset, mucking around at a control panel. Apparently, everything that happened in Silent Hill was his work -- that isn't us talking, that's the game.

"Now it all makes sense!"
Realizing that the search for his wife has all been for naught and he's been a puppet of a freaking dog all this time, James falls to his knees for the small comfort of said dog licking his face.

"Damn you, evil ... haha ... evil beast ... aw, I can't stay mad at you."
Then the credits roll to circusy organ music, accompanied by yapping dog sounds and random pictures. And we mean random.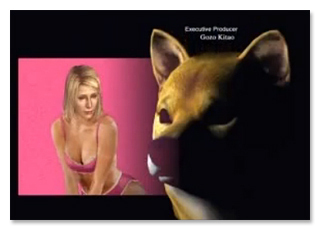 This is what a brain stroke looks like.