Defining douche-chill moment: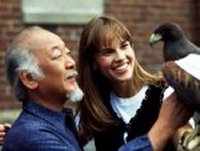 A deadlock between Mr. Miyagi shopping for a fucking prom dress--a prom dress!--and the dancing monks in the monastery. We don't know what research the filmmakers did that would suggest that "dress-shopping and extended-dance sequences" were the two things the original Karate Kid movies desperately needed. All of the polls we took point to "more karate" and "boobs" as the best answers.
Vomit-in-the-mouth quote:
Julie: "I wish I had courage like you."
Mr. Miyagi: "I wish I had chocolate bar with almonds."
Roll the tape:
Mr. Miyagi teaches his pupil an important lesson about self defense by getting a bunch of kids to throw NERF toys at her. While it's unclear how this is supposed to teach her to fight off any but the most idiosyncratic rapist, it does provide one of the longest uninterrupted toy commercials ever inserted into a major motion picture.
If you really need to get the taste of shitty kung fu out of your mouth, (and after that clip, you'll pretty much have to), rent The Octagon with Chuck Norris from 1980. When Norris spits out the line, "That's an insult to both of us-it makes me stupid and you a whore," you'll be far too busy fist-pumping to wonder whether or not that statement actually means anything.