As people, we like to aim a whole lot of our brainpower at the humble art of speculative boning. If mankind's ability to constantly think about sex could be harnessed as an energy source tomorrow, we'd be flying boob-fueled dongrockets all across the galaxy and drunkenly pelting little green men with literal F-bombs within a week. Sex toy companies are not exempt from this rule, which is why they occasionally get carried away with their machines and start making things that might be technologically impressive but bear little resemblance to anything even vaguely bangable. Or, for that matter, sane.
(As you can probably guess, everything from here on out is NSFW.)
Via Aliexpress
In a previous installment of this column, I discussed the A10 Cyclone SA, a goofy-ass home appliance lookalike that seemingly specializes in slowly sanding dicks into oblivion. Even today, I think it remains the most unnecessarily spooky item on that list, which is saying something, considering that the article also included a giant artificial vagina for your face.
So of course it turns out this vacuum cleaner / sander vortex was just one part of a bigger product family. Namely, the sane part. Here's its grumpy old uncle, the R-1, which takes its design aesthetic from that sexiest of all appliances: the blender.
Yep, seriously. Here's a guy demonstrating it on a rubber wang:
YouTube
Which you just know was a good three inches longer before they turned that thing on.
As any of my co-workers who bought my DIY firenado kit at the last company picnic can attest, I'm not the best person to preach about product safety. However, even I feel that a thing specifically designed for dong contact (dongtact) should have at least two requirements: 1) the product shouldn't look and act like its only available settings are "sander circumcision" and "full transition surgery", and 2) failing that, it should at least be somewhat intuitive to use. Guess how the R-1A10 Cyclone performs on the latter front?
Via ikOala
Is that an emergency beacon? Pretty certain it would come in handy.
Holy shit! That's not an easy-to-use sex toy, that's something Bear Grylls takes in the wilderness to nunchuk wolverines.
Still, in a way, I'm actually quite impressed with the R-1. In a world where people start slapping each other with lawsuits whenever someone stubs a toe, there is a company that makes a product clearly designed after a thing that can puree meat, and joyfully expects you to stick a dick in it. That requires balls, even if said balls are in for a hell of a ride, should an errant hair get caught in this thing's machinery.
Via Amazon
"Hey, Tom. I got tasked with designing this new sex toy, but this is actually my first day at the office. Can you give me any pointers?"
"Oh, it's easy. Just make something that buzzes and tears through a ton of batteries, and remember to put a bunch of silicone between the whirring parts and on whatever section people will try to stuff up their butt."
"See, that's the thing. I have no idea how to build those things. I used to make engines for race cars."
"Look, just build whatever you like and stick a tongue or whatever on top. We'll say it's new technology, everyone will lap it up."
That's probably not the actual origin of the RockBox 2. But hey, you look at the thing and see if the above hypothetical doesn't seem like the most obvious explanation: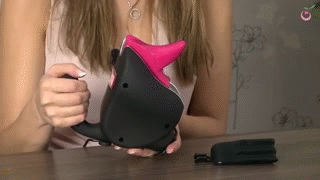 YouTube
"Tbtbfhhhhhtttt!"
The main and pretty much only selling point of the RockBox 2 appears to be its insane power. It's advertised as a "sex power tool," and boasts a frankly ridiculous 5,000 RPM's worth of said sex power. Fun comparison: Your average electric sander rarely exceeds 4,000 RPM. Why make anything sex-oriented this ridiculously strong? Because sometimes "fuck your genitals" doesn't mean what you thought, that's why.
A show of hands, if you will: How many times have you been so irrevocably horny that you've seriously considered bringing power tools to your nether regions? Five? Fair enough. However, the RockBox 2 provides your experimental mind with a different, more worrying question: How many times have you been horny enough to consider having someone else go nuts all over your fun bits with a 5,000 RPM hell-machine? If your answer is anything other than, "Holy shit, what? Never!" please check your immediate environment for stupid adjectives and horribly misinformed BDSM, because there's a chance you may be a character in an E.L. James novel.